Insights
What can be better than using third-party data?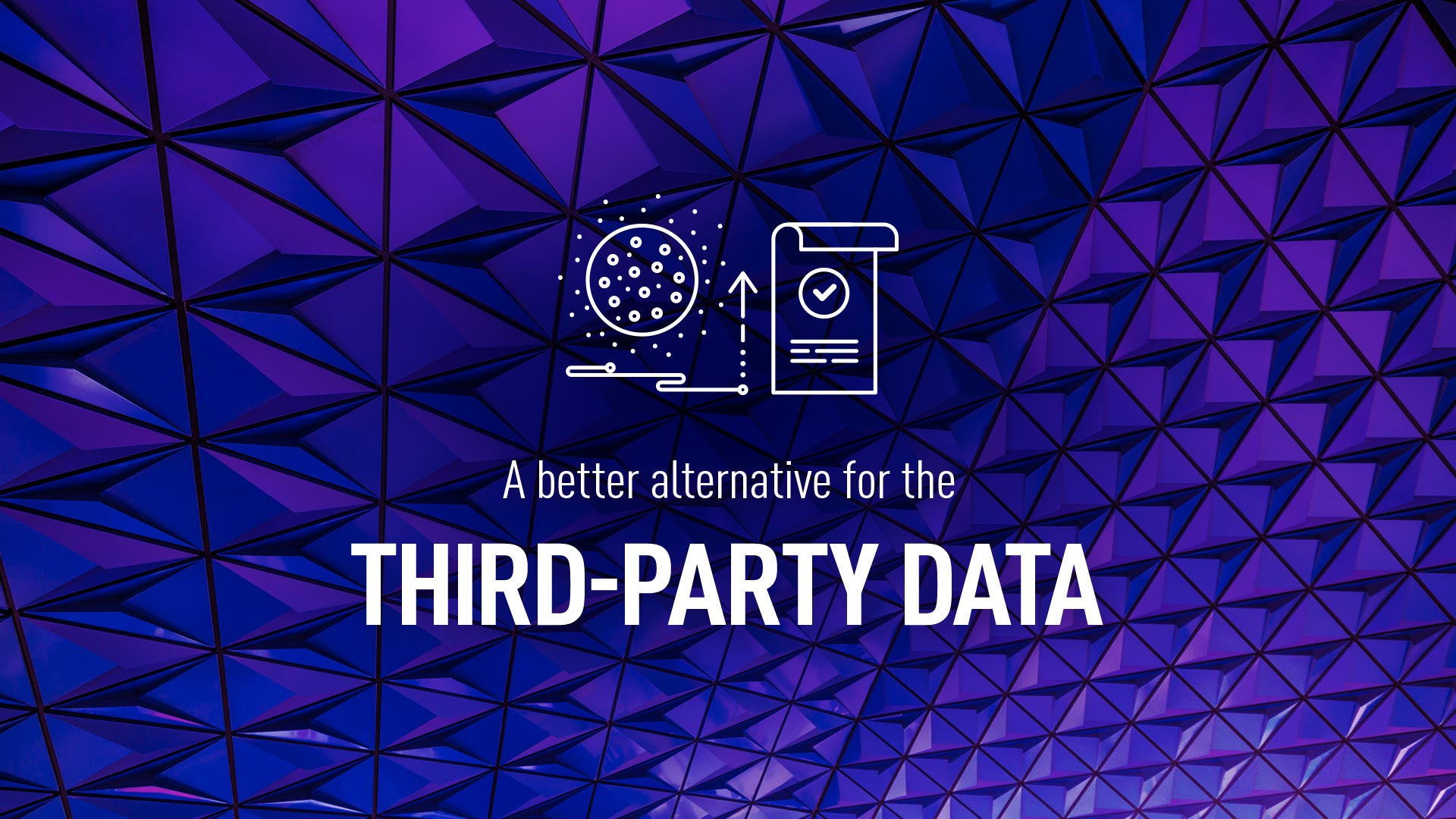 How have a few companies outperformed the competition and achieved substantial income growth? That's pretty simple – with the potential of data gathering! Their success was primarily achieved by developing a deeper understanding of their consumers and behaviours. Then, they embedded these customer insights into meaningful company strategy changes. More companies are using third-party data for better results. But what if we tell you that there is something even better?
A few words about the third-party data
Third-party data is the type of data that you buy from outside sources. The sellers are not the original collectors of that data; they are data aggregators that pull it from various other sources. They are gathering data about online users. The data includes interests, demography and purchase intentions. By using third-party data, one can use targeted advertising to reach your desired target group.
After gathering them from different sources, providers can process and organize data into categories based on selected aspects, such as industry, behaviours, interests, demographics, age or gender. Each target group is then broken down into specific segments, and the client chooses which particular section they want to purchase from each buyer.
The third-party data is bought and sold programmatically, which means it happens rapidly and generally on a large scale. The large volume and broad scope are some of the primary benefits of third-party data. The downside is that you don't know the source of the data. The data is also not exclusive — it's publicly available, so one's competitors could have access to the same data.

How can your company use third-party data for effective marketing?
The third-party data lets them run more effective digital campaigns. With specific knowledge about their customers, they can improve their digital presence, increase sales and give their customers exactly what they need.
Targeted advertising campaigns
Personalization plays a crucial role in the current marketing approach. In essence, it means that the brand is using gathered, processed data about their customers to deliver messages targeted to an individual customer. It's not easy to determine the exact thing your customer is looking at that moment, but a few strategies can be helpful.
First of all, you need to focus on their needs. Every customer expects you to know what they want. You can learn about their desires both ways – asking yourself that question and trying to come up with the perfect answer, or asking them. Using surveys and user testing is an easy way to uncover their needs.
Then, remember who your customers are and what they've done. If you know they bought something in the past, don't try to sell them the same thing the next day. It is not only annoying and confusing but also a bad user experience. You should follow customers' insights on every possible channel to avoid such mistakes.
And finally, think about their possible future needs. If you have the advantage of knowing their data and browsing behaviour, you have the opportunity to predict what they may need next. If you know they read a lot of content on one topic, send them more content on this or similar issues. If they've already bought one product, make them aware of its newer versions or upgrades.
Personalized marketing messages
Each customer provides a signal about their needs and intentions, while the company responds with a relevant and timely message. It is sent to the individual customer and can be of different types, like images, social media posts, offers, etc. We call this form of messaging "a trigger".
Targeted advertising messages may focus on specific demographic characteristics, habits, identifying traits, behaviours or contexts of consumers. Advertisers can tailor a message to a customer's gender, income or educational level, employment, personality, interest, lifestyle, values, internet search habits or other online activity. Such a focus on personal information allows them to target messages better, hence improving the customers' experience.
These sorts of personalization in messages are three to four times more effective than blast messages. They can also introduce customers to new products and further enhance their experience.
Targeted advertising allows sending highly personalized communication to a specified customer. It reduces waste by eliminating using more material types of ads. Content marketing can be more effective than traditional marketing, and it can also be much cheaper. It can even reach more potential customers with a personalized message and gives you better customer insights.

Targeting your audience
Trying to reach everyone usually means that you are not reaching anyone. That's why it's essential to know your audience and to target it directly. The better you understand your market, the more likely you'll be able to use personalization on your ads.
To understand your audience best and to know their behaviours, you should focus on the below steps:
Compile and process gathered data about your customers,
Prepare a detailed description of each target group,
Identify their motivations,
Make use of data analytics tools,
Observe the competition and their strategy,
Use social media to know your audience.
Don't be afraid to use targeted advertising when specifying your target group. People outside your target can still buy from you, but they're not your top focus while creating your marketing strategy. Your target market should be created based on audience research, not just a feeling. You need to be willing to learn, adapt, and go after the people who want to buy from you. Don't be afraid even if they're not the customers you initially set out to reach.
Reaching out to new customers
While you already know how to take care of your customers and what to do to keep them, you may also be interested in finding out how to reach out to a new customer base. You should remember that you can reach others, even if they are outside your specified audience. There is a saying that it's easier (and cheaper) to keep the already acquired client than attract a new one. But it's not impossible!
Are you interested in data monetization?
Reach out and see what we can do for you!
There are a few ways how to gain a new customer base. Besides email marketing or using social media as a channel for promotion, sometimes there is no better thing than good old-fashioned networking. By taking part in industry events, your company can appear more authentic and transparent. And in the meantime, you can connect with people who may become your potential customers.
Of course, there are other options to reach a new audience. You can consider adding new keywords to your SEO strategy so that you can rank for different things in the search engines. Think about affiliate marketing, which involves working alongside another website or blogger.
Use each option possible to find new customers, but keeping your company's image coherent is crucial. People follow brands for a reason. It might be many different reasons, but the key to success is ensuring that you embrace personality features that complement rather than contradict each other. The more you focus on your existing reputation, the more you'll become the kind of company your audience will follow.
TASIL and the maximum potential of using third-party data
When thinking about monetizing your data, which means making your data securely available to your partners, you have a great advantage over the existing third-party data providers. From the partners-advertisers perspective, data that comes from a reliable source (such as telecommunications, banking, insurance or retail) will always be worth more than the existing third-party data aggregators.
Data they offer in the programmatic model is considered not very accurate. Using the TASIL model and making your first-party data available gives you a competitive advantage with no effort.