Insights
The big impact of Big Data on the telecom industry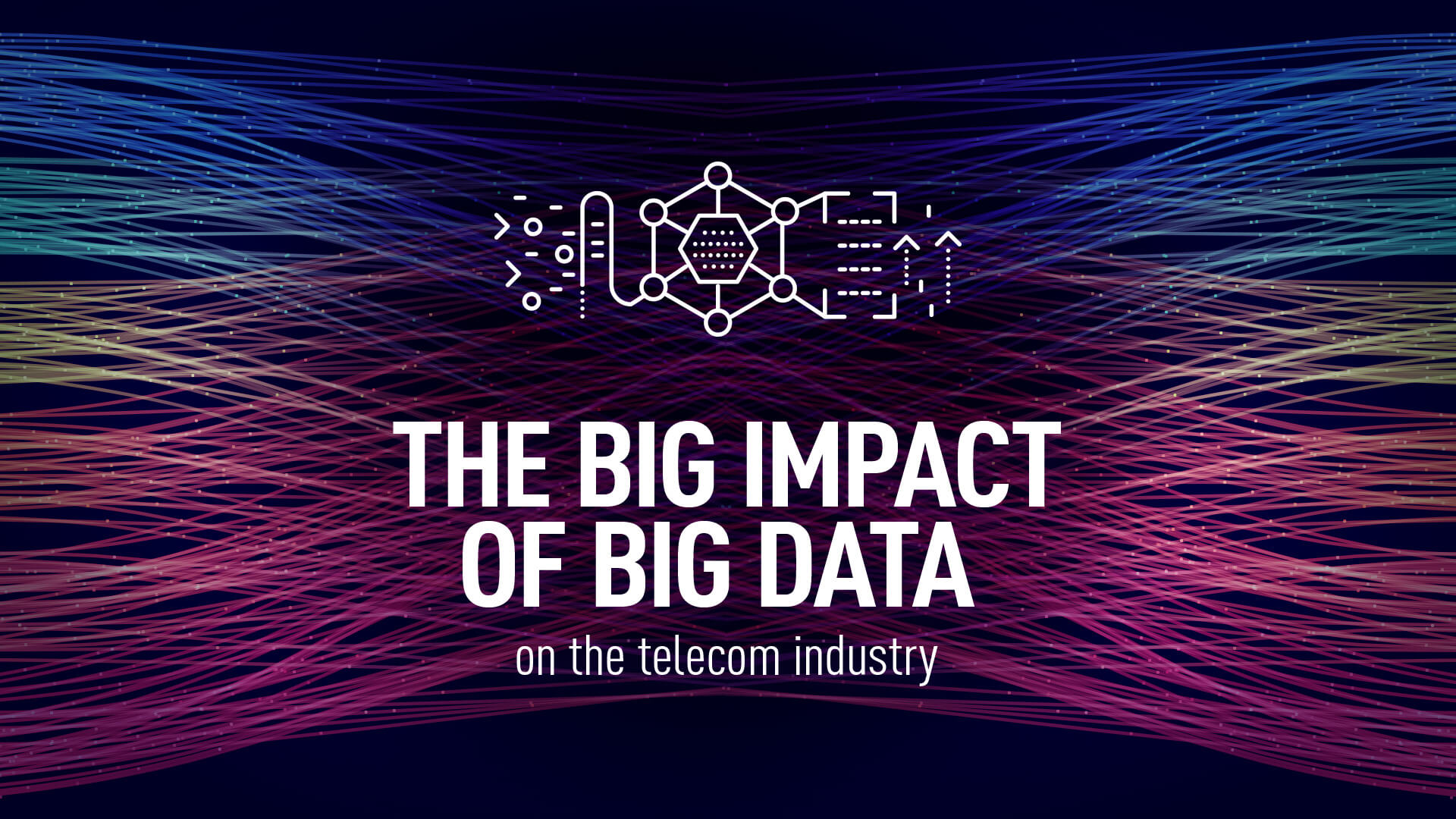 The rise of smartphones and other mobile devices has increased the volume of data flowing through telecom operators' networks. It is necessary that telecom companies process, store, and extract insights from the data available. Big Data analytics can help them increase effectiveness by optimizing the network, enhancing customer experience, and improving security. Research has shown that using Big Data in telecom companies can truly be substantial.
The importance of Big Data
Technological development offers a real opportunity to gain much more of telecoms and their customers. Unfortunately, the telecom industry spends too little on R&D than any other technology-oriented industry and its efforts to change have not yet been successful. The operators that can incorporate new strategies into their organizations can gain a real competitive advantage faster. The use of Big Data in telecoms is an example of such a strategy.
One telecom operator would like to improve its marketing effectiveness and ROI. They decided that the use of Big Data is going to solve their problems. They constructed a data mart with a summary of all detailed usage information for each mobile subscriber and used it to determine target groups. Then, they designed and launched several below-the-line campaigns targeted to the relevant customer groups. For example, a few campaigns boosted revenues by tailored product offerings based on customer usage patterns by country.
These results are not unusual for telecoms that focus on data strategy and the customer experience. Still, most operators are struggling. They mostly fall into one of three data environments:
Info-archive – operators that haven't started using Big Data yet, because they have limited or no analytics capabilities,
Info-familiar – operators that have already used Big Data but have not implemented a full solution and whose analytics are not coordinated,
Info-smart – operators that have created a strong Big Data environment, aligned and shared customer data, and advanced analytics are used.
Using Big Data in telecom industry
The concluding goal is to combine and correlate every data source to generate a complete and transparent view of every customer's interaction with the operator.
But to really use Big Data in telecoms, they must radically change how they compile and use the information. Of course, the impact of Big Data on businesses is tremendous, and here are a few reasons how it can improve various aspects of their operations.
Predictive analysis
The predictive analysis applied by telecom companies uses historical data to predict future behaviours and get valuable insights into customer data. With gathered insights, companies can become faster, more efficient, and, simply, better. It also helps with making data-driven decisions. For example, by analysing customer preferences, companies can have a better understanding of each customer.
Customer churn prevention
Engaging customers for a long time is a difficult job. Therefore, companies need to take necessary actions to prevent customer churn. Using Big Data in telecoms enables analysis of the customer's behaviour. Gathered insights help to disclose the customer's thoughts on a particular service. As a result, telecom companies can address the satisfaction issues immediately and, in effect, prevent churn.
Customer segmentation
The content and strategy need to be tailored to the specific market. Therefore, telecom companies segment their customers and then target campaigns accordingly. Segmentation and targeting help with predicting customers' needs, preferences, and reactions to services and products. Usually, companies divide the customers into four segments:
Customer value segmentation,
Customer behaviour segmentation,
Customer lifecycle segmentation,
Customer migration segmentation.
Fraud detection
Most fraud cases in the telecom industry are illegal access, fake profiles, authorization, cloning, or behavioural fraud. Each of these frauds affects the relationship established between the company and the customer directly. Therefore, fraud detection tools and techniques are needed. Big Data analytics helps to monitor behaviours in real-time, thus preventing fraud. This technique has extremely high efficiency because it allows an almost real-time response to any suspicious activity.
Lifetime value prediction
Customers are always looking for something better and cheaper. The same goes for telecommunications services. Therefore, telecoms need to measure, manage, and predict something called customer lifetime value (CLV). It focuses on customers' purchasing behaviour, services utilized, activities, and average customer value. If telecom fails to predict CLV value, it may result in profit or loss. Using Big Data in telecoms helps to distinguish between profitable, nearly profitable, and unprofitable segments of customers.
Recommendation engines
The recommendation engine is a set of algorithms that represents customers' behaviour. It can predict customers' future needs for the product or services. Recommendation engines use collaborative filtering (data analysis of customers' preferences and behaviour) and content-based filtering (relationship between customers and product or services chosen).
Price optimization
The number of customers in the telecom industry customers is growing extremely fast. Therefore, pricing optimization becomes an important factor. The concept of a dynamic pricing approach includes mapping lifetime values, tariffs, and channels to calculate the price elasticity and a pricing plan to combine this data. And based on these insights, companies can define the interdependencies between promotion, pricing, and future revenues.
Network management
Network optimization allows looking into the customer's historical data. Based on that data, telecoms can obtain the cause of customers' problems and complications in network connectivity. It can also predict probable future problems and optimize network management to ensure its smooth functioning.
Operators should realise from companies such as Google and Facebook, where data is king and virtually every product decision flows from what the available data says about customers and how it can be used

PwC
TASIL supports the use of Big Data in telecom industry
The potential of Big Data in the telecom industry poses a challenge, but companies can definitely benefit from it. Big Data analytics, for instance, enables telecom to predict peak network usage so that they can take measures to relieve congestion. Also, it can help identify customers who are most likely to have problems paying bills as well as those about to churn.
We have a tool that can make a significant difference. Our processing engine,  RETIXA, analyses large volumes of data and serves it securely in a high-performance, real-time Big Data monetization platform – TASIL.  It enables the hyper-precise targeting of marketing messages. Telecom operators should focus on the data itself, using it to make correlations and connections. If done correctly, the data could reveal insights that could form the basis of more streamlined operations.