Insights
Main benefits of behavioural segmentation in marketing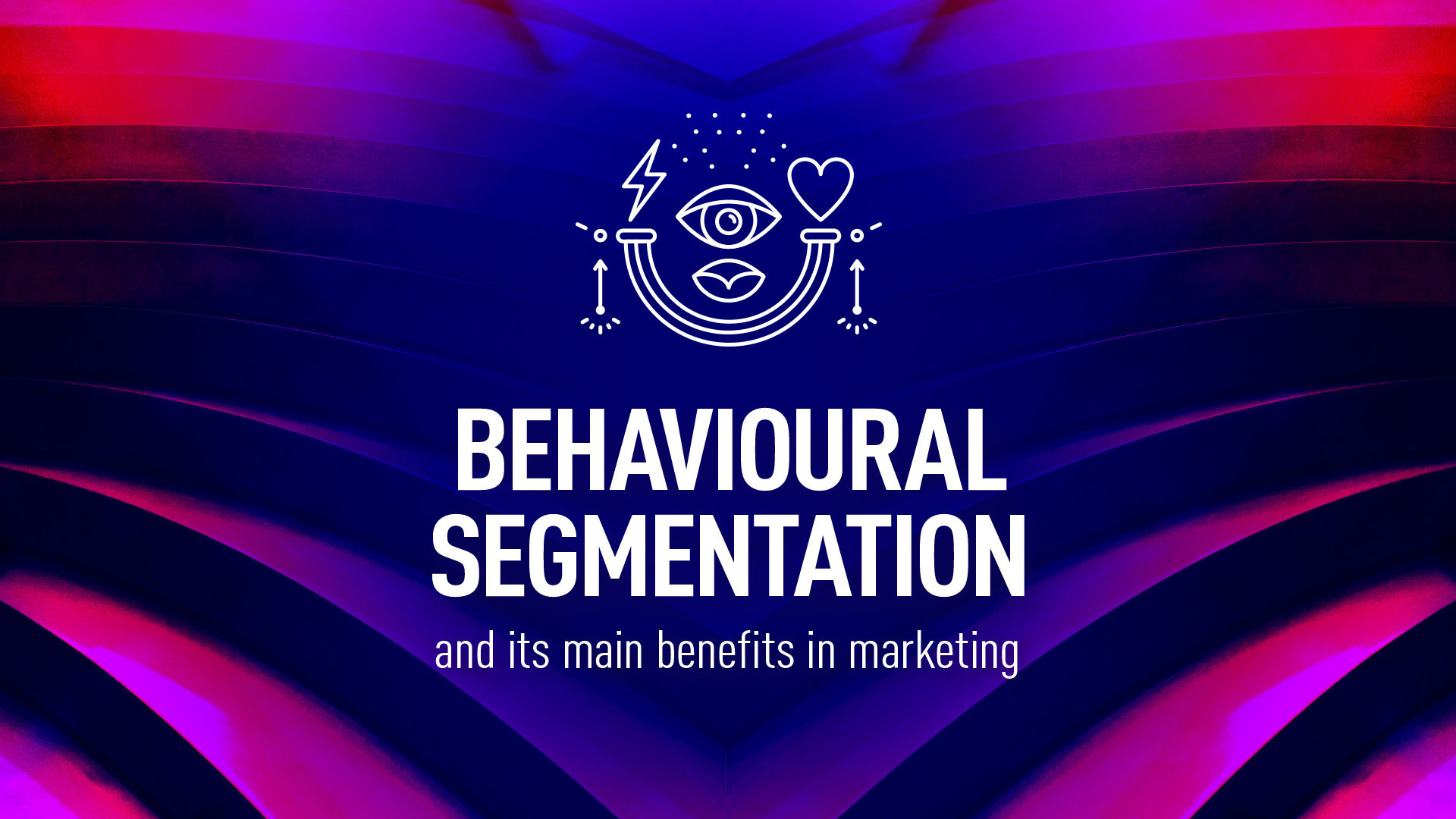 The first part of our article introduced you to behavioural segmentation and how to perform it successfully — this time, we want to put our primary focus on the benefits of behavioural segmentation in marketing. Behavioural segmentation is more challenging than other segmentation categories, like demographics and geography, but it is definitely worth the reward. Understanding the needs of your customers is the key to personalization, and that allows you to perform the best marketing campaign possible.
How to use behavioural segmentation right?
Behavioural segmentation, if done right, is the best way to determine your customers' needs. Data analysis from more than 30,000 campaigns by mobile marketing platform Braze found that personalized campaigns sent to specifically selected customer segments received a 200% greater conversion than those sent to more generic audiences.
"Knowing who your customers are is great, but knowing how they behave is even better."

Jon Miller, CEO Engagio.
Demographic data requires the correlation of unrelated characteristics to a persona's buying behaviour. For example, a thirteen-year-old girl wants to buy a makeup box signed by their favourite influencer. A 45-year-old man probably won't be interested in such a product. But what if we didn't take into consideration a straightforward fact? The man wasn't looking for this particular box for himself, but he wanted to buy it for his daughter's birthday. Thanks to behavioural segmentation, we can take this scenario into account.
Behavioural segmentation provides what is most necessary – the context that allows marketers to pinpoint the demands, motivations, and mindset of their customers. It may not seem important in your whole marketing strategy, but the context can truly make your marketing campaigns successful. Context makes your campaign worth its price and is the main difference between traditional and modern marketing. Also, it allows you to achieve the most from using behavioural segmentation in marketing.
To start doing such a segmentation right, you need to follow these five simple steps:
Determine your goals,
Choose which type of segmentation helps you achieve these goals,
Analyze your customers' behaviours,
Use behavioural segmentation in your marketing actions (targeting your campaign's content, price determination, selecting products),
Gather results, analyze the data and then do it again (the same way or with some kind of upgrade, based on the data analysis results).
Benefits of behavioural segmentation in marketing
Behavioural segmentation provides the necessary context that allows marketers to specify customers' behaviour, demands, and motivations. It will enable you to take advantage of the existing buying behaviours of your customers and tailor your marketing precisely. You'll be able to send the right message at the right time to the right person. That is the basis of hyper-targeting. But there are more benefits you can gain from using behavioural segmentation in marketing.
Improving personalization
77% of consumers would have chosen, recommended, or paid more for a brand that provides more personalized service or experience. That's why companies are putting their focus on becoming more and more customer-oriented, hence more direct and with highly targeted communication.
Behavioural segmentation makes personalized marketing an exact science, only because it focuses on facts, not assumptions. 
It requires a thorough analysis of customers' behaviours and interactions. Using behavioural data for segmentation in your marketing campaigns allows you to choose the marketing tactics that will have the most impact at any given time.
Customer segmentation is a step forward toward the best marketing personalization practices. Preparing generic marketing materials is nothing but letting down your customers. Behavioural segmentation allows you to give your customers precisely what they want. Hence, their customer journey is getting easier and more enjoyable.
For example, Starbucks uses behavioural segmentation to target their regular customers that buy a cup of morning coffee. They want them to make another purchase later in the day, so they use email marketing and push notifications on their mobile apps to inform about happy hour events.
Predicting future behaviours
When you have enough information to understand your customers' behaviour, it's easier to think ahead of them. With behavioural data, you can identify a few patterns of your customers' actions and determine how they are going to interact with your marketing campaign. Knowing which products sell and which don't or how long each customer's journey takes will help you with tailoring your marketing operations to their approach and send more personalized communication.
Using these patterns and behavioural segmentation allows you to reach out to customers at critical points in their journey to offer personalized content and move them through the sales funnel faster.
Once you know what to expect from your customers, you can make predictions based on the gathered data. These forecasts allow you to adjust your marketing approaches better and enhance products based on what your customers want or need. Make use of the data gathered with behavioural segmentation and provide your customers with services that they won't get from your competitors.
Netflix is one of the best examples of predicting customers' behaviour. By analyzing customer habits, buying patterns, and feedback, Netflix gives customers recommendations for the content they might like.
Managing the campaign's budget more precisely
Planning your campaign's budget is not an easy job. But the more information you have, the easier it is to make smart decisions. That's why using behavioural segmentation is helpful while considering how much money you have to spend on specific campaign elements.
When you have access to data regarding your customers' behaviour or buying habits, it's easier to allocate marketing budget and resources to channels and initiatives that need it the most. Therefore it allows you to make the most out of your different marketing initiatives and campaigns.
Are you interested in data monetization?
Reach out and see what we can do for you!
For example, by analyzing the results of your previous marketing campaign, you can decide where to cut some of the costs. The unnecessary target group that brought no conversion? Lots of unopened emails? Use these insights to improve your next campaign and allocate the budget accordingly.
Achieving better data analytics' results
It's one thing to follow the business performance, campaign metrics, and data analytics, but looking at the same reports for customers segmented by their behaviour opens up an entire world of impactful and actionable insights.
One of the benefits of behavioural segmentation is that it allows marketers to follow the newest trends within different audiences and optimize each part of their journey for every type of prospect that comes into contact with your brand. It allows you to scale and grow your business quickly and successfully.
Amazon, one of the most popular e-commerce companies, uses customer behaviour data for their algorithms. A user's purchase history, items from their cart, items they've rated and liked – all these data make the shopping experience more personalized, hence more user-friendly.
Understanding your customers
And finally, one of the most crucial benefits of using behavioural segmentation in marketing. Thanks to understanding your customers, you can group them according to their behaviour and then plan your marketing strategy accordingly. It also helps in making other plans for your company.
A simple example – if you are planning to open a hotel near the railway station, you should focus on budget rooms more than luxury rooms. Why? Because most people will stay at such hotels for one night only while waiting for a morning train.
Thanks to using behavioural segmentation you can gather such insights about your customers. When you know that a particular group of people shows the same behaviour, you can easily advertise your product or service to achieve a more significant effect on them.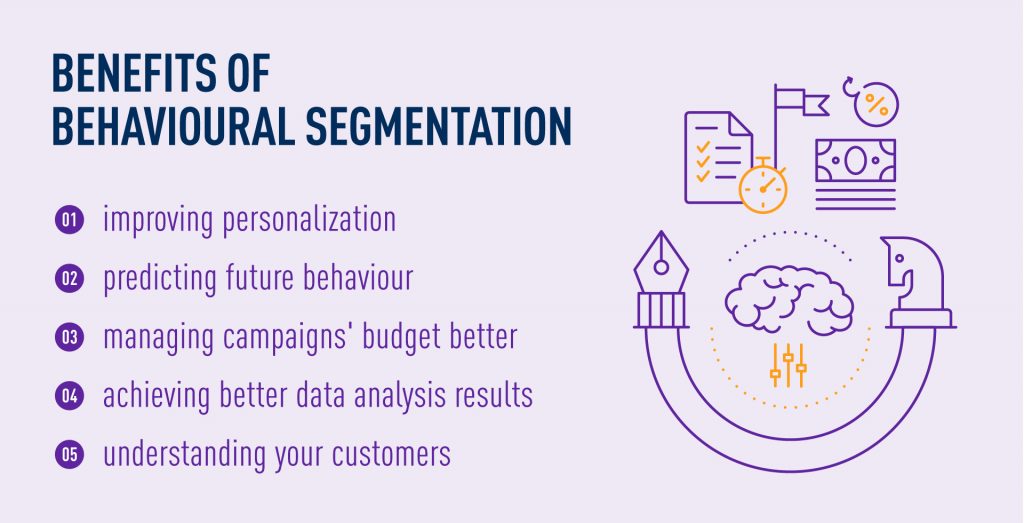 TASIL and the use of behavioural segmentation in practice
TASIL is a great data monetization tool that allows you to use gathered insights to make innovative marketing campaigns. One practical example of using our tool is the implementation of a marketing platform for Omantel, the leading telecommunication service in Oman.
TASIL Omantel is a great example of using behavioural segmentation in marketing. Creating modern campaigns, both for your company as well as third-party companies, based on segmentation lies at the basis of its success. You can use different segments to make your marketing campaigns even more personalized. TASIL Omantel allows you to target your audience with segments such as frequent shopper, music fan, car seeker, sports fan, travel fan and much more. You can also group your customers based on demographic data, target only customers from your email marketing list, or combine all these tactics for better results. We also offer in-depth analysis, mostly thanks to our data analytics tool, as well as customers' surveys.
If your company operates on a vast amount of data, we got you covered. With us, you can gain most of the behavioural segmentation benefits mentioned in this article. Our experience was already shown in the areas of insurance, retail, and banking. Choose TASIL and make the most of using behavioural segmentation in marketing!