Insights
Real-time advertising and how to do it right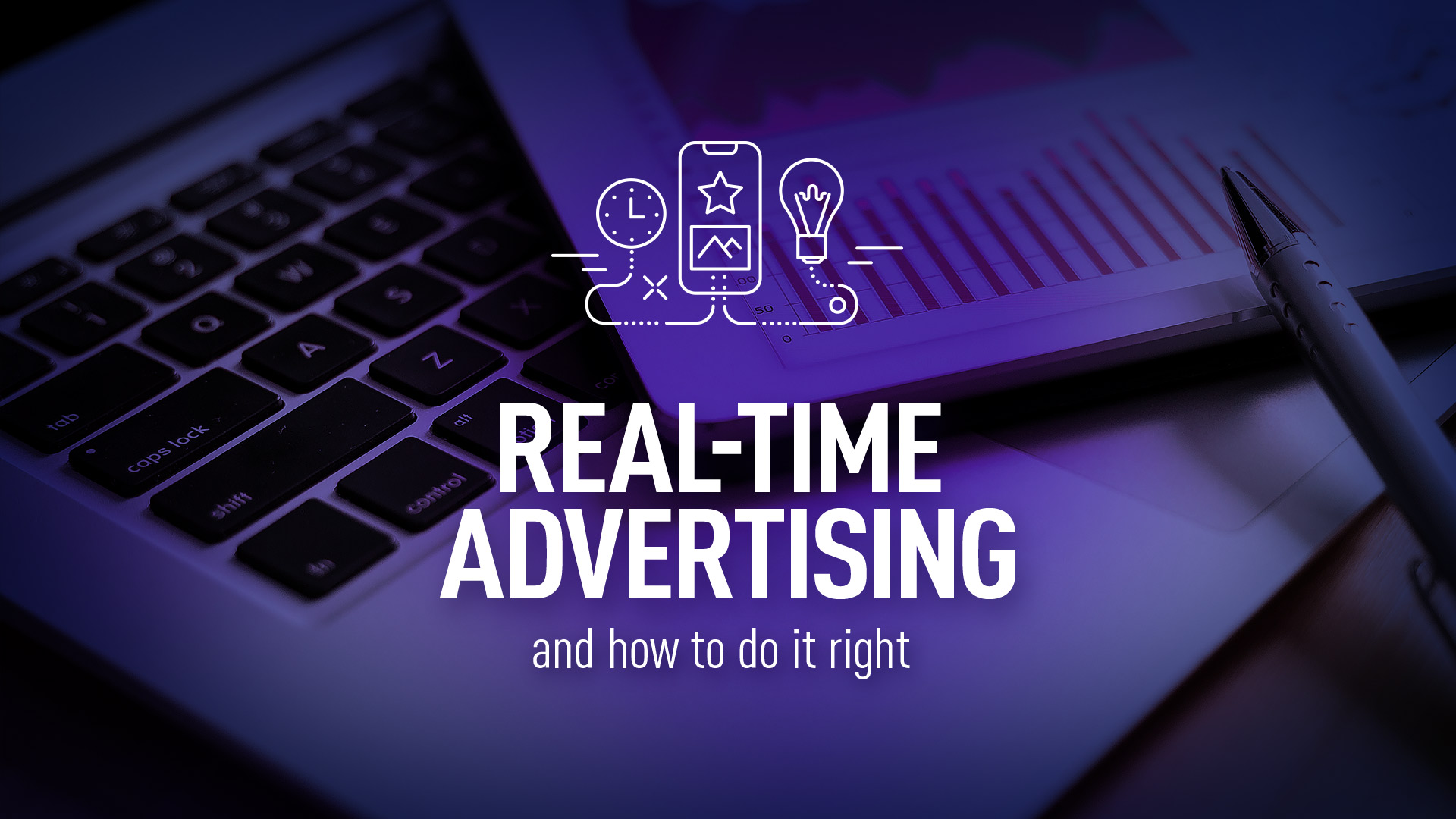 Today, more than ever before, marketers need to keep up the pace to match the customers' needs. They no longer have time to launch performance-oriented campaigns and wait weeks to see results. They need to take action in real-time to target the right customers, personalize the customer experience and optimize the content. Real-time advertising trends show that marketers can build strong and long-lasting relationships with their customers if only followed correctly.
A little introduction to real-time advertising
Real-time advertising is a performance-based form of display advertising that refers to the general field of graphics-based online advertising. The designed marketing materials are displayed online in a graphic format. RTA works with real-time bidding (RTB), a method for enabling advertising space on websites to be auctioned in milliseconds.
RTA is a promising method for online advertising, and the following overview shows its advantages and disadvantages.
Advantages:
Environment-specific ad impressions: websites and platforms that offer a higher potential of visitors from the target group can be systematically found and targeted.
Greater reach: advertisers can run campaigns on many different websites.
Monitoring: real-time advertising offers lots of statistics that can be used to measure campaigns' results.
Disadvantages:
People don't watch banner ads: the increased number of online ads means that many visitors no longer pay attention to them.
Ad blockers: if a person has an ad blocker installed, this will block the embedded ads.
User experience can be restricted: some ad displays restrict webpage use, which can frustrate users and lead to negative impressions of the advertised offer.
Real-time advertising and real-time marketing are often used interchangeably. They can be understood in two ways – as an immediate and adequate, usually digital, marketing response to cultural events taking place in real life, or as an automated response to customer behaviour (for example, when the customer visits a particular website, uses an application, searches for a specific product or passes by a point of sale).
If you want to know more and learn about the differences between these two approaches, please visit our previous post about real-time data marketing.
Trends in real-time advertising that shouldn't be ignored
The whole of 2020 has been a difficult time for marketers. The advertising trends for the future are proving to be extremely relevant. What behaviours should be continued? What trends are likely to lead to success in the coming year? Here are some of the most important real-time advertising trends.
Artificial Intelligence
The dominance of Artificial Intelligence is not to be overlooked. AI can analyze consumer behaviour and search pattern while also using data gathered from social media channels and blog posts to help understand how customers find products and services.
Most marketers have been using AI for a long time, but there's still a lack of clarity about the benefits of implementing AI marketing in the whole real-time advertising strategy.
AI marketing uses Artificial Intelligence to automate marketing decisions and actions based on data collection and analysis. AI can predict customer action or inaction, segment and target the preferred audience, personalize content and its delivery, and optimize channel selection. With the help of AI, marketers can analyze data more quicker and automate decisions based on them.
AI marketing enables marketers to convert vast amounts of data from various sources into insights in real time. This not only increases marketers' efficiency and enables them to spend more time on strategy, but it also increases such essential outcomes as a time to ROI. With gathered insights, marketers can improve the customer experience, marketing performance and business outcomes.
Chatbots
Since their beginning, chatbots are and still will be an important part of digital marketing. This AI-based technology can be important customer support that is active 24/7 and resolve queries in real-time.
Many customers prefer interacting with a chatbot because of its availability and prompt query resolution. Chatbots can accurately recall customers' entire buying history and offer outstanding customer service by meeting their expectations. Bots are also a great assistance to the staff because of their ability to solve repetitive tasks, which means agents can focus on more important and complicated work.
Implementing chatbots in the company is a trend that needs to be followed. Many benefits that such solutions offer to prove it's something not to be overlooked. If you want to read more about how chatbots can improve a company's performance, visit our Actionbot's blog. Our product was already used in the insurance sector as a solution to automate communication and many others.
Contextual targeting
Contextual targeting improves ad relevancy by matching keywords, location, or browsing habits to offer personalized ads to attract selected customers. Advertisements are displayed not because of what the customer is searching for but based on the content's relevancy and the keywords linked to this.
This is a trend that's not going to disappear soon. It's never been more important to show ads to the right audience. Customers expect adverts to appeal to them, reflect their needs, and offer products or services they need.
Contextual targeting improves an advertisement's relevancy. Thus, ensuring only those interested in what companies have to offer are put in front of the brand. It's also very secure and privacy-friendly because that is something that more and more people are concerned about.
Personalization
Personalization is an extension of contextual advertising and the idea that customers only want to see advertising that means something to them. In 2021, real-time advertising should speak to the consumer, but this idea is nothing new – it's a regular online advertising trend that will only be further developed.
Where should marketers use personalization?
Facebook ads – Facebook users expect advertising to target them based on what they engage with and like; such ads need to feel personal,
Emails – personalized email campaigns allow for targeting individuals based on their shopping habits, encouraging them to buy a specific item, and offering them a discount code generated just for them,
Google AdWords – customers enjoy the feeling that the ad is generated just for them, which improves the chances of catching their attention.
If you want to read more about personalization and how to use it, read our blog. We combined AI with a real-time engine to achieve maximum results, proved that behavioural segmentation is truly important, and wondered if personalized customer experience is necessary.
Agile approach
During 2020, marketers were required to be more agile than ever before, adapting their advertising methods to reflect the new and difficult situation. Many brands created new advertising, showing real employees working in their homes talking to consumers directly about how they could help. It revealed a more human side of companies and shared the idea that we're all in this together.
Are you interested in data monetization?
Reach out and see what we can do for you!
Even if there is a bigger hope that the pandemic will end shortly, we still need to adapt and be flexible when it comes to real-time advertising. When creating a marketing strategy, thinking about a few things can be beneficial:
Are these plans easily adaptable? Make sure that the marketing approach can be quickly changed and still achieve the same result.
Do they reflect the current mood? Marketers must understand how people may feel and offer a solution they really need.
Is the advertising method available and Covid safe? Keeping that under control is truly important, especially with guidelines and rulings changing day to day.
We understand that such events are not something we can be prepared for. But the whole pandemic situation proved that it's more important than ever to be flexible in the marketing approach. Our agile approach is something that we value the most, and you can read about it on TUATARA's blog.
Micro-moments
A micro-moment is an intent-rich moment when a customer turns to a device to act on a specific need. Customers make most purchasing decisions based on these four micro-moments – to know, go, do or buy.
Micro-moments growing popularity means that marketers must rethink the linear marketing funnel that follows a set path: awareness, consideration, and decision. From a marketing perspective, micro-moments are a complete game-changer. Overall, users aren't searching for a brand but a business, product, or service that fulfils a need. This change in user intent makes micro-moment marketing more important than ever.
In 2021, the customer journey is becoming more dynamic and unpredictable, and it probably is going to be continued. It needs to reflect rapid changes in customers' desires. After all, in the digital and mobile age, they have become accustomed to instant gratification. If customers think or talk about something, they want to learn more, see more and buy more with just a few clicks.
To get the most benefits out of micro-moments, marketers should:
Identify consumers' "I want to buy" moments,
Be there in these moments of need,
Deliver relevant content,
Make it easy to make a purchase,
Measure every moment that matters.
Creative optimization
Real-time advertising requires to put focus on efficiency and effectiveness. Creative optimization offers such options because of the automatic optimization of ads. No one wants to spend hours adjusting preferences on a marketing campaign, especially when platforms can help. Facebook's Automated App Ads is an example of such a platform. It allows streamlining campaigns and takes care of their management while conducting A/B testing to determine which adverts work the best.
These optimized ads are enabling marketers to work out where customers are and offer more targeted advertising. Also, using such tools allow them to reach even wider audiences than was previously considered.
Marketers can test many variants to determine which appeals most to their consumer base, providing data to be used in future campaigns. Also, because of its full automation, it means less work for the whole marketing team.
In-depth analysis
Testing and analysis are important parts of modern marketing. Predictive analytics uses data mining, predictive modelling, and machine learning to identify behaviours' patterns. All this analysis is an attempt to predict the future. In-depth analysis and gathering insights are becoming more and more sophisticated and popular in today's businesses.

In terms of digital marketing trends, it is being used in advanced lead scoring, segmentation and individual personalization, which helps marketers reduce churn and improve customer loyalty.
One such example is Amazon Assistant, a Chrome extension that allows customers to permit product recommendations from Amazon to extend beyond the website. This assistant is suggesting personalized offers while customers are searching the web.
TASIL keeps up with developments in real-time advertising
Change is an integral part of digital marketing. Keeping an eye on new trends, looking ahead, and embracing new technologies and strategies is what guarantees a competitive advantage. TASIL is constantly growing and improving for our customers.
And we'll continue doing so because providing the best possible service is one of our key values.