Insights
SMS marketing is still very effective (2022 update)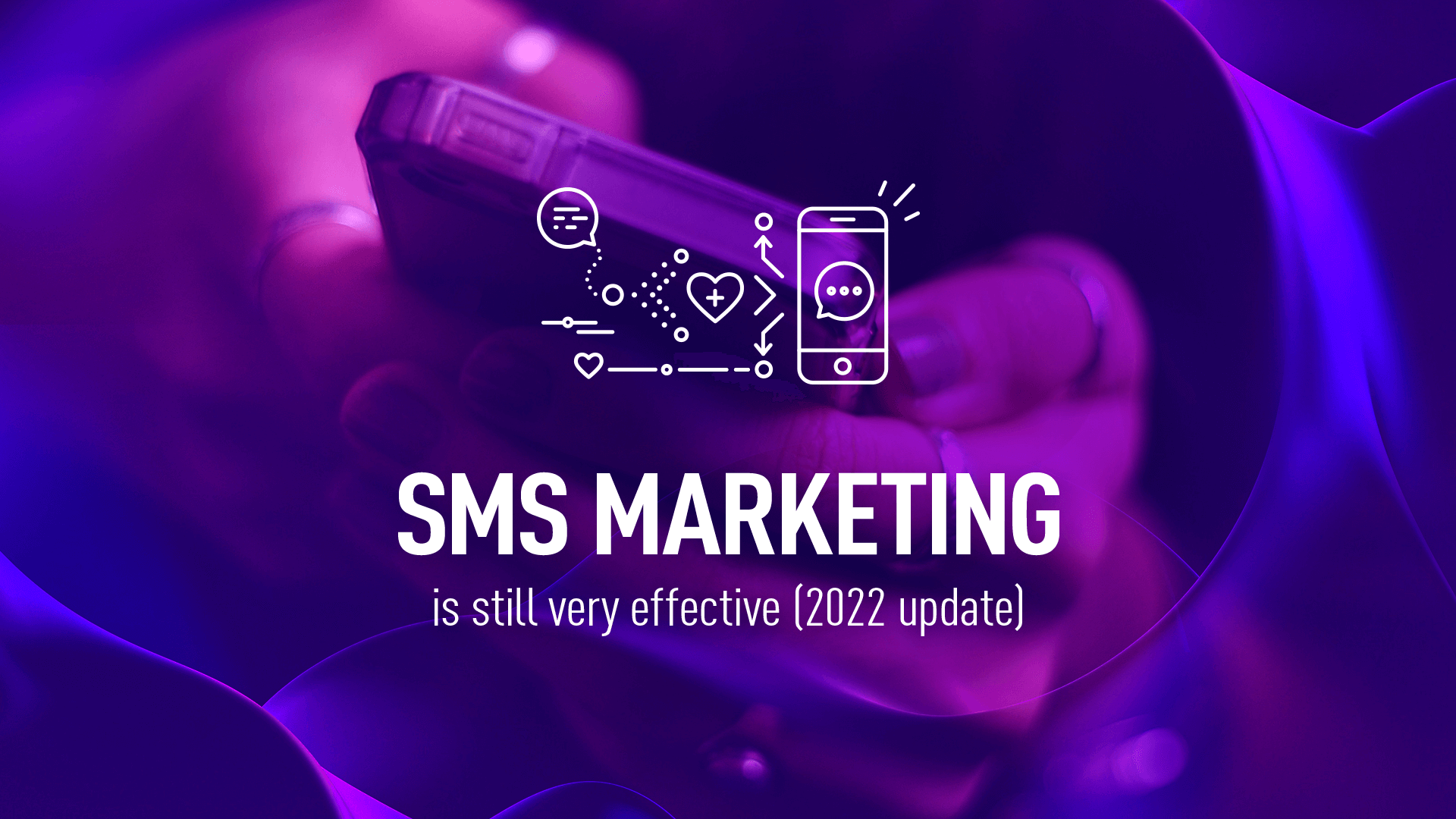 SMS will always be an effective way to reach customers with personalized communication and significantly low marketing cost. Our previous article about SMS marketing listed its main advantages and provided tips for developing a successful marketing strategy. But as it was written a few years ago, we wanted to check if it is still a good way to engage your customers.
A few SMS marketing statistics
SMS marketing simply occurs when businesses send text messages to customers who have opted in. It includes campaigns, promotions, news, order confirmation, company updates or customer service.
SMS marketing is a great chance to strengthen relationships with your customers, but there are also a few things to keep in mind to succeed. As this is a more personal channel than email, you need to think about what you want to send and how often you send it. If you overuse this channel, you can lose some of your customers. But on the other hand, you can use it to build greater brand loyalty if you understand how to navigate this marketing strategy.
As SMS marketing is still one of the most powerful sources of engaging customers, we've gathered a few statistics that proves its worth in 2022.
SMS marketing vs email marketing – the comparison of most important metrics
Both SMS marketing and email marketing are among the most popular marketing campaign methods. Their success can be evaluated using the same metrics, but each gives quite different results. So let's dive into this comparison a bit deeper, focusing on what can be measured using these strategies.
Open rate
Compared to emails, SMS tend to be more effective. Their open rate is 98%, with only 20% for emails. SMS marketing is a more direct route to customers because recipients are notified instantly, and text messages usually have a better chance of being seen. Also, SMS are generally opened within 90 seconds of delivery, while email open rates hover around 90 minutes.
Click through rate
SMS marketing also has a 9,8% higher click-through rate than any other digital communication channel. This is because SMS messages are shorter to read, and the click-through rate is around 19% because of their short length. Only 3,2% of people click the links in a marketing email mainly because it's long, and they get bored halfway before reaching the link.
Deliverability
Because SMS marketing requires explicit opt-in, less than 3% of SMS messages are considered spam, compared to nearly 85% of emails.
Whereas around 22 billion texts are sent daily, an average person receives roughly 67 messages a day. Users get text notifications right away on their phones compared to email notifications. While SMS marketing seems like the automatic choice, users must opt-in to receive communications from your brand. Once subscribers have opted in, marketers can reward customers with some offers, hopefully increasing the brand's mobile audience.
Frequency
Fewer companies run SMS marketing campaigns, increasing your chance of standing out in your audience's messaging inboxes. Email is an overly saturated marketing channel. For example, the average office worker receives 121 emails per day.
Response rate
Consumers are 4.5% more likely to respond to brands' SMS than emails. This is because it takes 90 seconds for an average person to respond to a text message and almost 90 minutes for an email.
Cost
Email marketing costs vary dramatically depending on your provider, list size, send frequency and additional features. SMS campaigns can become more costly without the right approach than email campaigns or any other marketing strategy. All text messages go through mobile operators, which charge premium rates and drive costs up. On the other hand, one of the most cost-effective ways to share your message with many people at once.
Improving customer lifetime value with SMS marketing
CLV is important in your return on investment (ROI) calculation. The cost to acquire a customer can be calculated by dividing the marketing costs by the number of acquired customers.
Email marketing typically has a great ROI because of its low cost of delivery and a large potential audience. While many emails may be ignored or missed, the low cost of their sending makes this approach cost-effective for the customers. The lifetime value of an email subscriber can be calculated with the length of the email subscription.
On the other hand, SMS marketing allows companies to text their offers to opted-in customers. SMS supports interaction between the brand and customers, making it the most engaging channel. The lifetime value of an SMS user is calculated using the lifetime the customer is subscribed to the SMS campaign.
The common thread in calculating Customer Lifetime Value is the customer's lifespan. You can increase CLV by implementing a few tactics to your SMS marketing campaign.
Personalization
SMS marketing lifts personalization to a whole new level. Companies can not only include the customer's name in the tailored message but can also ask survey questions to understand their preferences better and improve personalization.
To maximize CLV, SMS allows you to start conversations. 89% of consumers would like to text with their favourite brand, according to Yotpo. This increases the customer experience and allows you to share recommendations and advice in real-time.
Flow optimization
SMS is a great tactic for optimizing business flow. For example, some customers might not check their email inbox often, so sending another reminder might not be effective. With SMS, you can send a follow-up message to those who did not open a previously sent email. If you want to increase repeat purchases, it would be highly recommended to insert text messaging into your flow.
SMS marketing allows you to send relevant messages based on specific events to guide customers to re-engage and purchase through their life cycle. It is a great way to encourage the customer to make a quick repeat purchase and increase revenue.
Advanced targeting
Since most consumers read emails in the morning or evening, time-sensitive content is best sent through SMS. Similar to email, you can target audiences based on behaviours and properties. However, it is easier to collect personalized data to target your audience better. People read 95% of all text messages, according to Mobile Marketing, so sending important information via SMS is the best practice.
Rewards for most engaged customers
Since companies' audiences for text messages are usually smaller than their email lists, cultivating relationships with the most engaged customers through SMS marketing is a great way to drive higher CLV. Every consumer wants to feel appreciated. That's why creating unique and personalized messages to the most loyal members will help. They want to feel connected to a brand, so, for example, receiving birthday wishes via SMS is a great way to strengthen your relationship.
TASIL is a great SMS marketing tool that supports your strategy
TASIL allows you to create really effective and highly targeted SMS marketing campaigns. It provides the possibility to use precise filters and segments that will help in defining the audience. You can also create personalized content that will be sent at the right time and place to the selected recipients.
If you want to know more about features that you can use to make your campaigns even more special, visit our Tips & Tricks section.