Insights
SMS advertising is still alive and very effective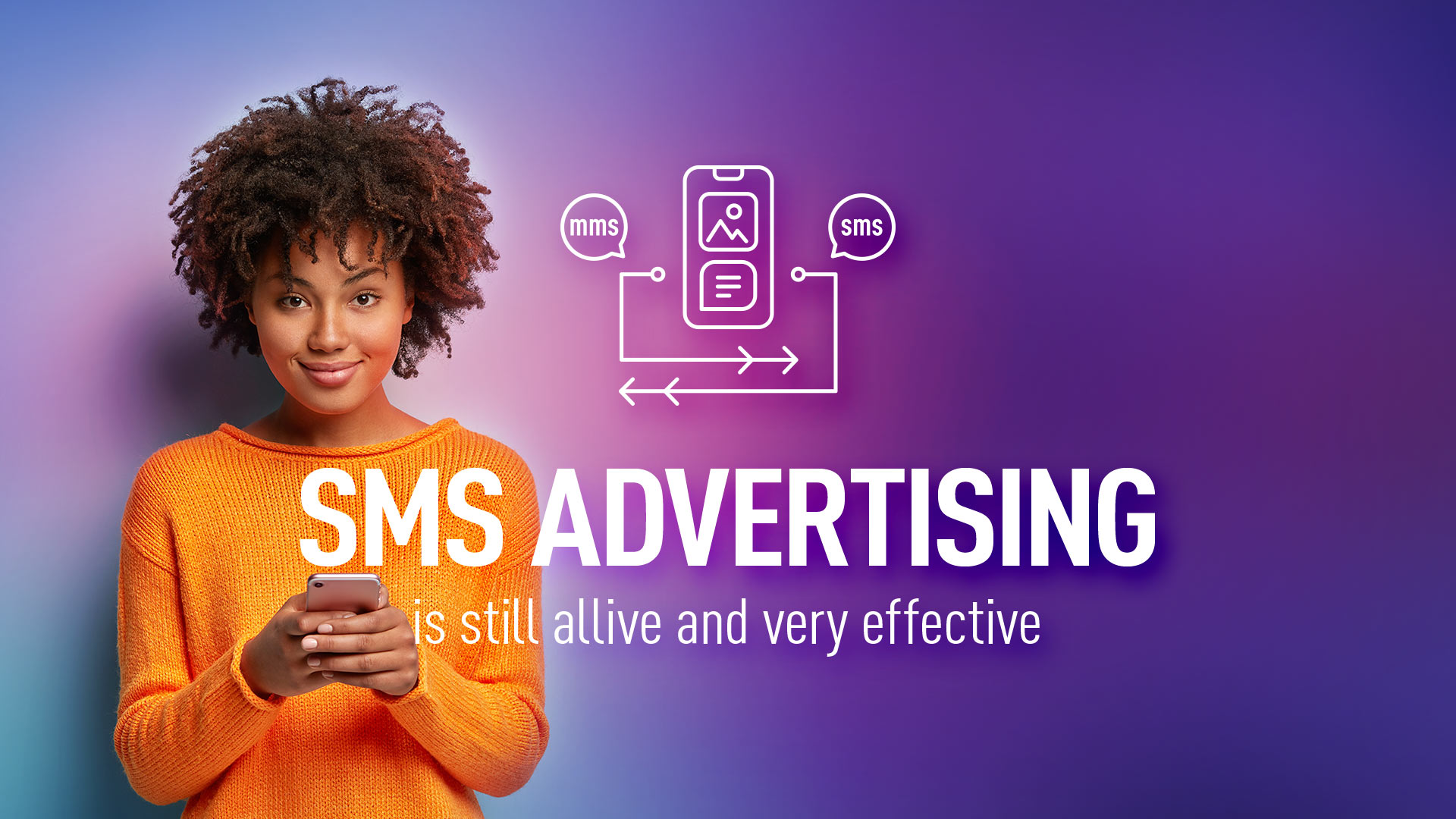 Aged over a quarter of a century, SMS advertising is an effective, simple and fast advertising tool intended for two-way communication. Although in Europe and in the USA, it was replaced by MMS messages and push notifications for a while, soon it returned to grace as the basis of SMS campaign.
Today's consumers are extremely attached to their mobile phones. They use them every day, always having them within reach and often starting a day by checking their mobile phone notifications. And that is why mobile marketing still makes sense and is highly effective. It allows direct contact with customers, providing them with information about current offers, promotions or discounts. SMS solutions for companies are provided for entrepreneurs from various sectors. The use of an SMS platform allows optimal adaptation of this form of communication to customer's individual needs and real-time targeted advertising.
If your plans don't include mobile, your plans are not finished.

Wendy Clark
Text messages are widely used in everyday life and in business – starting with online stores, sending notifications about the order status, post office or other government offices that improve communication with residents, through a possibility of buying a medicine using a special code, to SMSes with commercial offers.
SMS advertising- facts & figures
According to the figures from Statista as at the end of the 2017 year, the number of mobile phone users worldwide was predicted to reach 4.9 billion in 2018. Given the fact that a lot of telecommunications operators all over the world offer free unlimited calls and text messages as a standard service, SMS remains a significant mean of communication, both private and business.
The use of SMS messages varies depending on the demographic affiliation of the respondents. Among Americans aged 50-64, only 75% use the telephone to send text messages, while among USA citizens aged 18-29, 97% do it. Differences are also visible when it comes to gender – it turns out that women have a tendency to read text messages less frequently than men.
The fact of whether people use SMSes not only in private but also to interact with companies is also an important issue. It turns out that in the USA over 1 SMS for 10 relates to business communication. Typically, these messages match one of three categories:
confirmations and verifications (such as confirmation of purchase, verification of identity)
customer service (asking questions, resetting passwords)
coupons and special offers (real-time location-based marketing
The top 6 reasons users are eager to get text messages are:
receiving the coupons or deals (77%)
personal alerts (50%)
like being in the loop (48%)
more meaningful content (33%)
don't want to visit business / website / app for information (31%)
quick access to information (29%)
The users perceive the received text messages as very useful. As many as 64% of users believe business should use SMS marketing more often and 70% see SMS as a good way of acquiring their attention. What is even more important 77% of users see the company in a more positive light if it uses text messages as a channel of communication with its customers.
SMS advertising advantages
SMS advertising has many advantages over other kinds of advertising and communication and it:
is immediate – SMS reaches the recipient immediately, so it is a perfect tool for campaigns that require taking up immediate action
is direct – SMS reaches its recipients directly, encouraging them to take action
is easily understandable for recipients – a small number of characters enforces a concise message
has a high delivery rate: customers nearly always have mobile phones with them
has high open-rate – 82% of survey respondents said they opened each SMS they received, what's more, the time of opening the SMS is only approximately 3 minutes
offers the possibility of targeted advertising– content tailored to the context, time, location, needs and interests
high marketing effectiveness – a well-planned and constructed SMS campaign reaches the right people with the right message
gives the possibility of using two-way communication – the SMS platform enables the transfer of messages in two directions
enables high measurability of campaign results – it is possible to verify how many people received the message with an offer and how many of them actually used it
In my opinion, the 'future of mobile' is the 'future of everything'.

Matt Galligan
However advantageous and effective, it is good to remember that mobile marketing may not be always the right channel choice. It works best when it aims at encouraging its receiver to take action, being direct, concise and consisting of a clear call to action. More general goals, such as increasing brand awareness, should be reached using a less direct channel probably.
Setting up an effective SMS campaign
Smartphones are reinventing the connections between companies and their customers.

Rich Miner
SMS marketing messages have a high percentage of openings (82% of respondents claim that they open every received SMS), which is a very positive information for every marketer, but it is also a challenge in terms of accurate personalization of communications included in text messages. To be well-perceived and actionable, the content of a message should match the context of the situation in which the recipient currently is. Otherwise, yes, there is a big chance a text message will be opened, but it will be counterproductive. It would be ideal if the recipient felt that the proposed solution is unique and tailored especially for him.
Messages should be personalized and ideally refer to the recipient's interests, purchase history, place of residence, age, gender and location. The sending time should be chosen carefully as the SMS will be surely read immediately.
Betting on an SMS campaign, especially while sending text messages including links, it is crucial to make sure that a website we are linking to has a mobile version. The site adapted to mobile screens clearly presents the content and makes it easier to use the touch screen functions. Placing a link in the message, it's important to remember to put a link to what we're actually referring to, and not the home page. If you create a specific URL you will as well be able to track the performance of your campaign.
Are you interested in data monetization?
Reach out and see what we can do for you!
It is worth remembering that SMS advertising is nothing else than a piece of text. It should be reviewed logically as well as checked for spelling mistakes, syntax errors or typos. The SMS marketing message should be succinct but legible. The most-needed information should be included: what, where, when and why. The benefit of language should be used. It is worth constructing information so that the recipient knows what direct benefits he can get.
And last, but not least – always respect the law and the right your customers have to opt-out. By the way, it is not such a threat as it may seem. As it is already known, most of recipients value the offers they get through SMSes, therefore there is a small chance that they will opt-out. The quantity of opt-outs is also a good test for the offer and its matching to recipients' expectations. If there is a lot of opt-outs, it may be a call to redefine the assumptions of the SMS campaign.
Even better mobile marketing with TASIL
Mobile is not the future, it is the now. Meet your customers in the environment of their choice, not where it's convenient for you.

Cyndie Shaffstall
TASIL allows taking care of all the above-mentioned aspects of good, effective & targeted SMS advertising and even more.
As you already know, the selection of the right target group is crucial. The more carefully the group of customers chosen, the more personalized are the campaigns and the less money you have to spend. TASIL provides the possibility of precise configuration of each campaign for each industry, giving a wide range of filters and segments that accurately define the group of recipients. The SMS campaign reaches not only the customers interested in chosen fields, but also those of them who currently stay around.
TASIL enables including interactive elements, such as links, which make it easier to track the results of the campaign. Thanks to them, marketers can determine whether the message has triggered action. This information can be then used for better configuration of the next campaigns, which will increase their effectiveness.
An extended version of TASIL services, TASIL PLUS, offers the option of creating custom filters for better offer-customer matching. It gives also a possibility to check effectiveness of the campaign in terms of selection of the target group, but also the type of message content. Thanks to A/B testing, it can be checked which configuration brings greater benefits within campaigns started at the same time.
The assumption of targeted SMS advertising campaigns set up with TASIL should be, giving a customer the pleasure of receiving something and the feel that he did not devote his precious time to read messages without getting anything in return. It is good to give something of real value – a voucher, a coupon, a discount or some souvenir.
TASIL is an ideal tool that enables linkage and cooperation of different channels of communication with a customer. Its functionalities can be used to direct the customer's attention to a different type of mobile marketing messages, such as a billboard or city lights, displaying an advertisement corresponding to the needs or interests of the recipient.
See more on successful SMS campaigns in real-time on the TIPS & TRICKS tab at https://tasil.omantel.om/tipsAndTricks