Insights
Bulk SMS advertising is gone – it's time for hyper-targeting!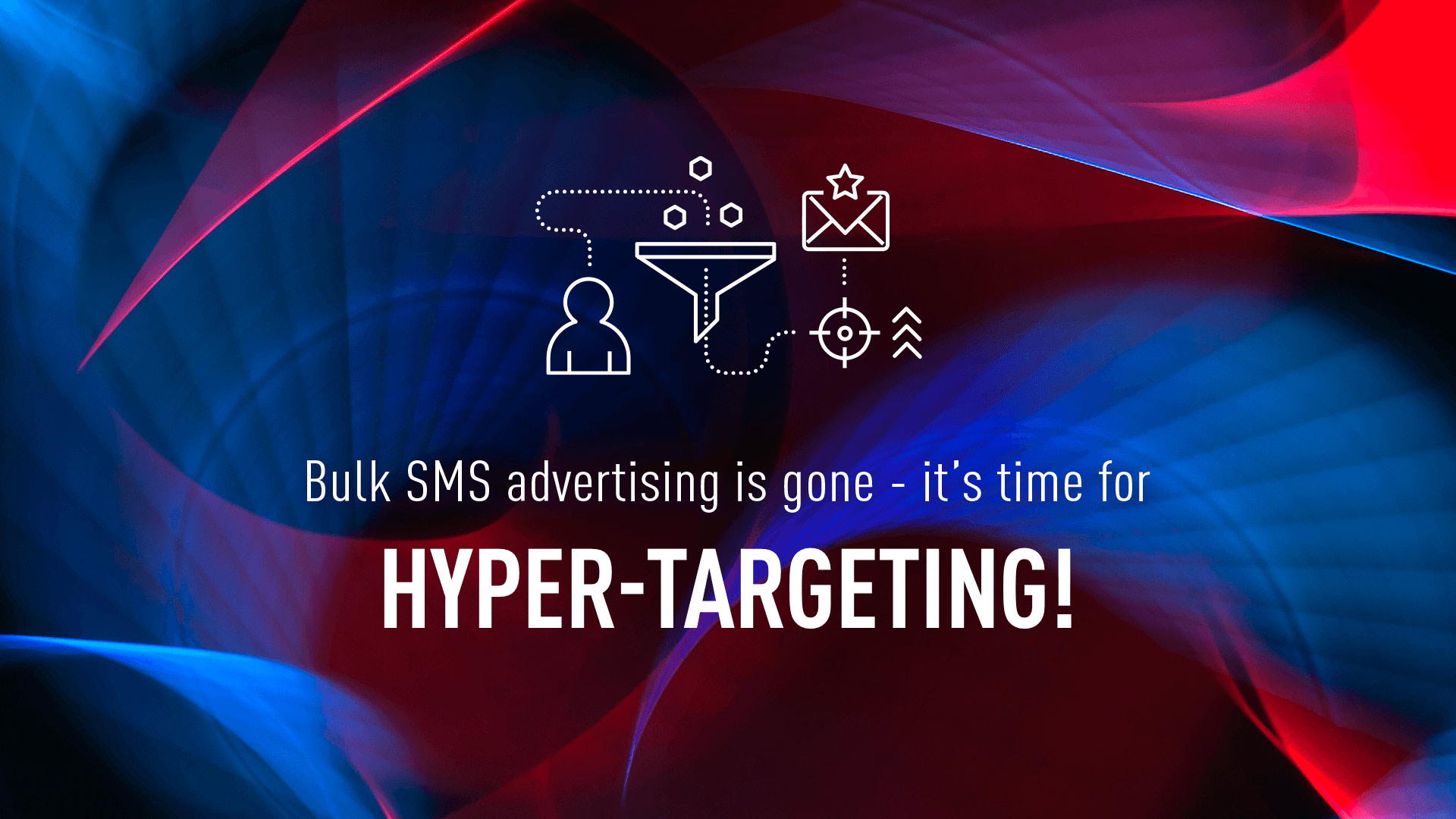 Mobile marketing is one of the most effective marketing strategies. The popularity of SMSes is still getting strong over the years. Bulk SMS advertising is one way to keep in touch with your customers. It's about delivering generic messages to a broad and relatively undefined audience. For successful marketing, however, the key is to identify your customers and deliver relevant content to them. That's why targeted marketing is a much better option.
What is bulk SMS advertising?
Bulk SMS means sending large numbers of SMS messages to mobile phones in a short period. Similarly, as with email campaigns, bulk SMS advertising is an easy way to create and put campaigns into action in a matter of minutes. The fact that SMS can be sent so quickly allows businesses to react instantly to current situations. For example, stores can drive footfall during a slow day. At the same time, marketers can promptly respond to a competitor's promotion or conduct damage control in a PR crisis.
Bulk SMS advertising means sending large numbers of SMS messages in a short period to a mass audience. 
Bulk SMS advertising allows direct contact with customers, providing them with information about current offers, promotions, or discounts. However, the main problem with such marketing is that it is directed to everyone and, in fact, to no one in particular. You can't engage your customers when your offer is so generic that it looks like spam. Your conversion rate is getting lower, and even that your brand is being recognizable, it's not interesting.
Having that in mind, is there a way to make your SMS marketing more effective?
The power of hyper-targeting
Hyper-targeting is a marketing strategy that we already mentioned a few times before. This time we want to focus on its main advantage over bulk SMS advertising – precise targeting consumer profiles in various media channels. Simply, it means if your customers are using smartphones, they get to receive mobile advertisements for products which they are interested in. Also, it can be a very powerful tool for creating more personalized SMS campaigns. But first, you need to know who your customers are.
While talking about hyper-targeting, there are a few definitions that need to be kept in mind.
Categorization helps you with understanding your business. You can adjust the right product or service to solve the specific problem. With categorization, you can divide your offers based on the nature of business and classify them to match the needs.
Business insights are all about understanding your target accounts. You can retrieve as much information as you can and then use it to build the strategy for approaching your audience and offering them specific products or services.
Buyer personas are the key to know who your target audience is. Identifying buyer personas plays a crucial role in successful hyper-targeted campaigns.
Geotargeting means identifying the geographical locations of your customers. Based on certain parameters, you can filter a specific geographical area in which you want to advertise a particular offer.
Retargeting is the strategy for reaching customers who have previously engaged with your product or offer in any way. It helps you engage customers that have shown some interest in your previous products, visited your website, or heard about your company.
Segmentation means dividing your target audience into smaller groups based on various factors, like interactions with your brand, their demographics, sociographic, jobs, values, needs, or buying habits.
Hyper-targeting vs bulk SMS advertising
Hyper-targeted marketing helps you to reach a smaller but well-defined audience. You can engage your customers with personalized communication. By using targeted marketing, you understand their needs and provide the right recommendation at the right time and place. On the other hand, mass marketing delivers messages to a large undefined audience.
When comparing targeted marketing to mass marketing, you can see clearly that targeted marketing is more effective. According to statistics by CMO, targeted communication is twice as effective as bulk SMS advertising. You can either reach a bigger crowd or gain a more engaged audience. And marketing to more relevant targeted customers increases its effectiveness and improves your sales.
Are you interested in data monetization?
Reach out and see what we can do for you!
Using hyper-targeting in SMS marketing is the most effective way to reach out to your specific audience. With the increase in using mobile phones around the globe, text messaging has become the most popular, inexpensive and convenient method to send promotional offers to customers.
Companies can create audience segments for their mobile advertisements – anything from their shopping habits to location and age. If they do it right with hyper-targeting, they can ensure great responses from the target customers. Also, brands can significantly enhance their image and increase their products' popularity. The key is to effectively develop creative strategies for reaching specific segments via text messages. That's why bulk SMS advertising, with its irrelevant advertisements and messages that can annoy your customers, is not offering you the marketing strategy you need.
With hyper-targeting, companies can also increase acquisition and repeat-sales. If you target the right customers and build your relationships with relevant and personalized communication, your company recall value will boost. Also, your customer acquisition & retention will improve. Building a solid foundation for a long-lasting relationship with customers is the main aim of hyper-segmentation and personalized marketing strategy.
TASIL takes hyper-targeting to another level
TASIL is the perfect tool targeting your audience in SMS marketing campaigns. Thanks to RETIXA, the real-time hyper-precise engine, any customer data owner can build their own state-of-the-art campaign automation. With TASIL, you can target people based on their location, time, nationality, age, or segments. This kind of hyper-targeting options is beneficial, especially while creating specific SMS campaigns. Nevertheless, it's easy to say that the era of general bulk SMSes is over, and the importance of hyper-targeting is yet to be discovered fully.