Insights
Mobile content marketing – an essential part of your marketing strategy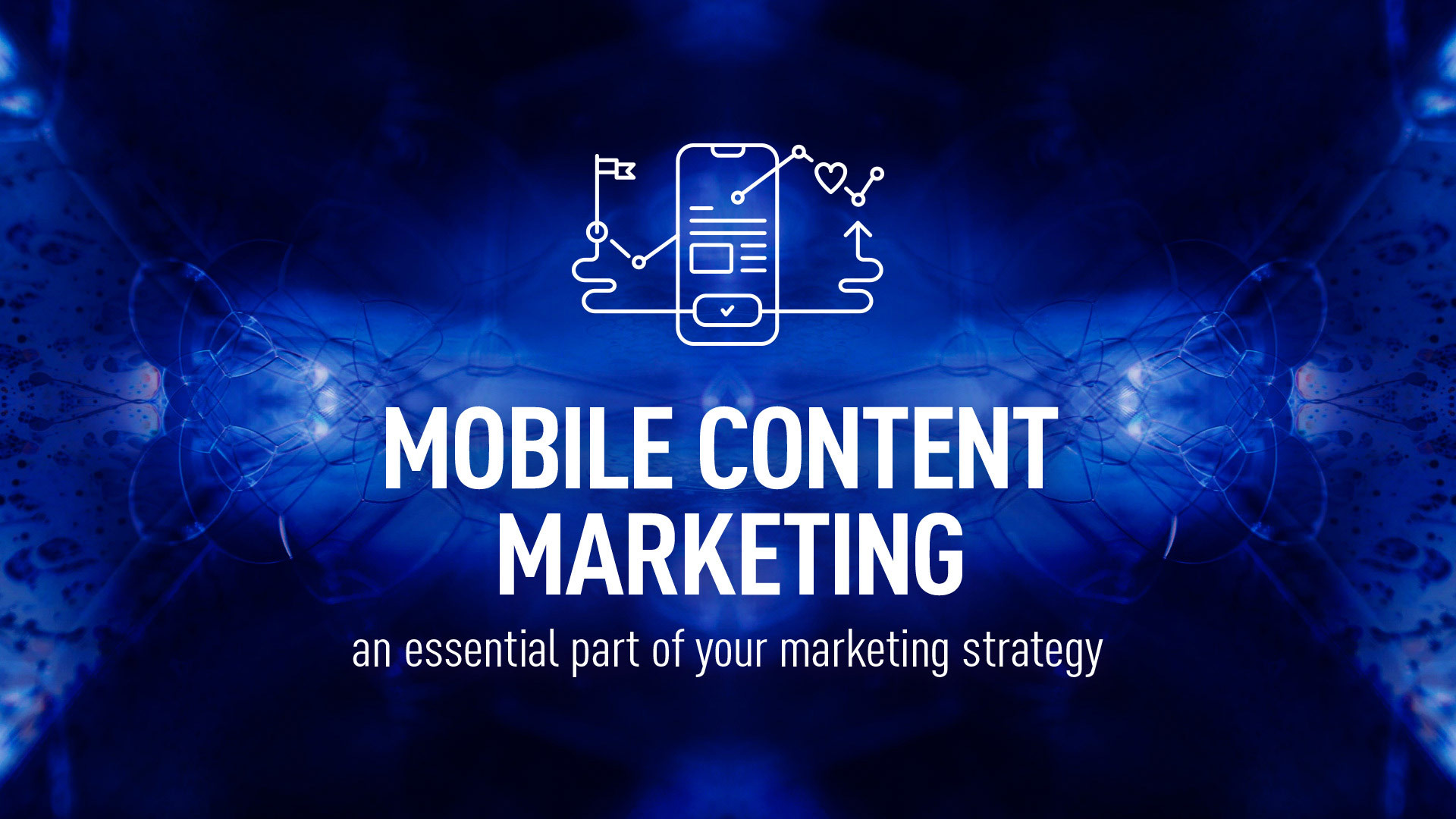 Nowadays, people consume most of the digital content with mobiles and smartphone devices. Therefore, while thinking about your content marketing strategy, you should put the old desktop-based approach aside and focus on making your campaigns mobile-first. Using the power of mobile content marketing can be the first step in creating a truly beneficial marketing strategy.
A few words about mobile content marketing
There is no possibility of ignoring mobile users while developing the whole marketing strategy.  With the rapid and unstoppable growth of mobile usage amongst customers (nearly half of Internet users is reading content via smartphones or other mobile devices), the only right decision regarding marketing campaigns is the mobile-first approach. That is why preparing perfect mobile content is so important. 
Mobile content marketing is a content marketing that is optimized and adjusted for smartphones and mobile devices. 
It is simply content marketing that allows the information from the brand to be shared via apps, social media channels or websites.
Focusing on making your mobile content marketing success is important, especially while taking into consideration that most of the Internet traffic is now coming from mobile devices. Mobile email creates twice as many conversions as social activities or searches. SMS marketing is now popular in over 31% of agencies within the US. Over half of US mobile users browse, search, and purchase on mobile devices at home. These numbers are something worth looking at. 
Knowing how to create and optimize your mobile content is critical to any marketing campaign. Creating useful and in-depth mobile content while taking a mobile-first approach will give you a significant advantage over your competitors.
Best practices to make your mobile content marketing engageable
Creating mobile content marketing is technically easy – you just need to make it readable via mobile devices. But the question is, how to make it more approachable, and engaging, and, as a result, make your marketing campaign more successful? If you follow the below rules, it will become much easier, so let's get started! 
Keep it short and catchy
A 2015 study by Microsoft revealed that customers have an attention span of just eight seconds, which is a decrease from twelve seconds in 2000. Therefore, while creating mobile content, you must keep it simple and appealing.
Short headlines with an encouraging call to action are what catch customers' eyes. As people are more and more distracted during scrolling through their phones, it's crucial to capture their attention with an exciting headline.  
Make it concise yet engaging 
Keeping the text informative and catchy while also keeping up with the limited number of words is where the real challenge lies. Most mobile users want to quickly scan the content to see if it is worth their attention.  
The first couple of paragraphs should be concise and filled with the most important information. Once your audience is engaged, you can follow with more extended and more in-depth content. Of course, try to keep customers satisfied not to bore them with only cold hard facts.
Use images and videos, but do it properly
Customers are looking more at images than at text, so using pictures in mobile content marketing should be a good idea. The same goes for videos. But here is the trick – be reasonable. Too many images can be overwhelming for customers. It can also overshadow the main message you want to give.
In mobile content marketing using pictures or videos should strengthen and elevate your point, not overwhelm it. Use them to make your statement more robust and accurate.
Prove your point with statistics
Lastly, it is important to prove to your customers that your content is reliable. By using quotes, statistics, and numbers, you show that what you have to offer works. It also keeps customers engaged with your message.
Your audience needs to have something to keep on scrolling through your text. That is why these types of interesting facts are engaging, especially while shown in the form of an infographic.
What should you do to improve your mobile content marketing strategy?
If you already know how to write engaging mobile content, it's time to learn the tricks to improve the overall content marketing strategy. There is no use in writing the most engaging copy for your company if this message won't reach an adequate audience. The below tricks will be useful while thinking through the next steps of marketing campaigns.
Optimize your landing page
There is a big difference in developing websites for desktops and mobiles. Therefore, the first step in creating a successful mobile marketing campaign is to adjust your content to be seen appropriately via smartphones or mobile devices. Mobile-first content strategy focuses on each stage of creating the plan – starting with planning, through development, and finishing with content management. The whole approach can influence consumers and meet your organizational goals.
Unique design for mobile devices allows customers to browse the website more easily and quicker. It becomes as easy as seeing this content on the desktop. You need to remember that mobile devices often need more time to load heavier images or animations. That is why keeping your landing page mobile-friendly is the key to increasing customer engagement.
Even a one-second loading delay, according to The Aberdeen Group, decreases customer satisfaction by 16%, conversions by 7% and page views by 11%. That's a lot! Keep that in mind, especially while your landing page is filled with photos or videos – regular check-ins and updates help to keep streamlining your mobile content marketing strategy.
Focus on the right audience
Targeting is the key to successful marketing campaigns, and it's not the first time we said it. Your mobile content needs to be adjusted to the specific target group, but also the type of platform. For example, Instagram is the perfect app for mobile marketing because it was specially developed to be most effective on smartphones or mobile devices. Therefore, it's good to know both the person you want to attract and the channel used for your marketing actions. 
Focusing on your audience, as well as on your mobile-first strategy, is going to help you build successful campaigns. You must remember two things. First, your audience does not have a long attention span. And second, they spend more time on the Internet either way. Both factors are somewhat beneficial if you capture their attention.
Using the right keywords also keeps your specified target group engaged. Companies that make good use of content marketing, for example by targeting the right keywords, bring long-term organic search results. Search users are the most valuable leads that you should be concerned about driving to your business. 
Make use of localized content
According to Google/Nielsen study, 40% of all mobile searches have local intent, and 73% of mobile searches trigger additional actions. Therefore, localized content is such a value in creating a good mobile marketing strategy.
Localized content is a type of content you create to target local customers. People who use their mobile devices to search online are more likely to respond to localized content. Any platform that targets a group of people who share a similar interest is important when creating localized content.
Are you interested in data monetization?
Reach out and see what we can do for you!
The mobile content marketing that focuses on localization includes:
Topic update – configure Google Alerts to know which topics are trending in a specific region and use Google Analytics to get location from visitors; then you can select regional topics for regional visitors and create personalized content,
Local keywords – add such keywords to the content, to meta properties, and as ALT tags; that's guaranteed visibility,
Google map optimization – its API allows integration; you can create and integrate positive content into the map listing.
Bring out the best call to action
Call-to-action is an integral part of any marketing strategy. And these are aces up in your sleeve! These short pieces of information are your main invitation to the targeted audience. Thanks to CTAs, engaged customers make the next step into your digital experience.
However, on mobile devices, digital marketers must create CTAs that don't require too many steps to be completed. For example, make sure that any link to connect with your brand can be clicked on, prompting an email box to open, or a phone call to begin.
Use what mobiles have to offer
Finally, in the whole mobile-first approach, it's important to use what mobile devices have to offer fully. Your customers have always their mobiles with them. And that's a big opportunity for your marketing actions. For example, customers can share their data with your company online and agree to receive mobile notifications about promotions for a limited time. Customers act with urgency, with the average SMS marketing click-through rate sitting at 36%.
Also, brands can create discounts and vouchers that are mobile-friendly for quick customer access. Many companies actively take advantage of this option, creating mobile barcodes that can be scanned at the point of purchase to access discounts.
Mobile content marketing with TASIL
TASIL makes use of data analytics to provide the best mobile marketing possible. Our main accomplishment is cooperation with Omantel. But we have something else for our clients! TASIL Plus offers assistance in preparing extraordinary content, that is only going to improve the quality of communication with the clients. Thanks to the high personalization, we could provide our customers with first-class mobile content marketing. We are proud to follow all the tips and tricks, mentioned in this article, so we can honestly say that it's a guaranteed success!