Insights
Big Data in the Middle East – a success to follow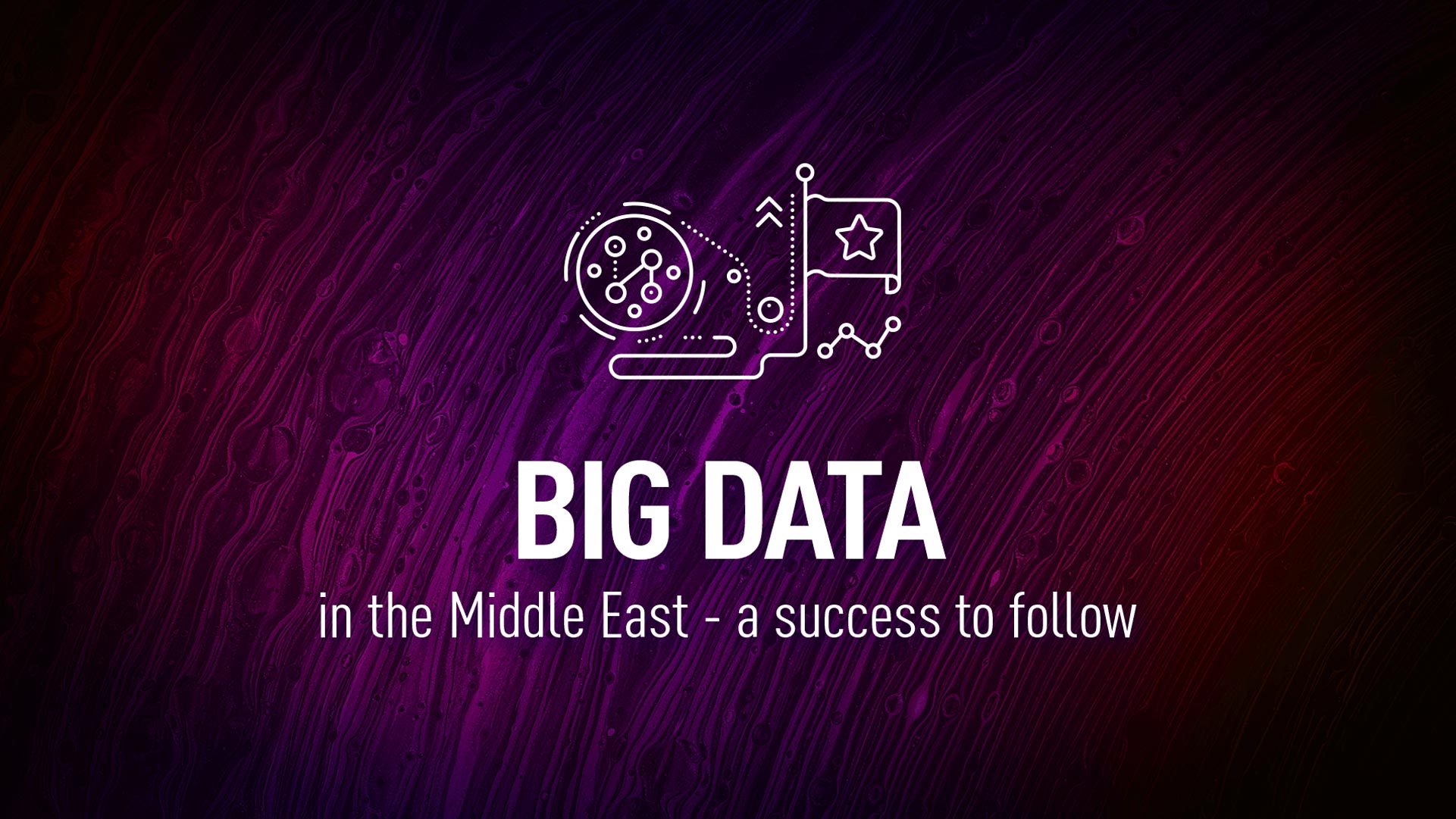 Understanding Big Data became a priority in today's business. Big Data offers many opportunities to develop strategies, improve decision-making processes, or support business growth that cannot be overlooked. Middle East countries recognized its possibilities as one of the first in the world. Therefore, they have such big achievements in the field. Read more to find out what stands behind the success of Big Data in the Middle East.
A successful approach to Big Data
Digital transformation has led to the surprising growth of data and has transformed how it is collected, stored, and analyzed. Big Data describes a vast amount of data, both structured and unstructured, generated and constantly collected that is difficult to process with traditional software and databases. Big Data offers many opportunities to various sectors in development strategies, enhances decision-making, improves service delivery, and supports businesses' growth. It has become a valuable resource, and with the use of its progressive analysis and mining, many countries are working to build a competitive advantage.
The Middle East countries were the ones that early adopted Big Data analytics. Its value is being used in various areas in the whole region. Big Data is central to the development of infrastructure, relevant knowledge economy, and market orientations.
While Big Data is still a growing field, its value, impact, and utilization for social science research in the Middle East remain an understudied area. Big Data has enormous potential that can be leveraged to enhance the development and sustainability of various sectors significantly and contribute to narrowing the knowledge gaps in social science research within shorter time frames. Big corporations widely use Big Data to deliver market-oriented services and combine their hold on regional and global markets. Data collected from the Middle East region can help address social, political, environmental, and demographical issues currently being faced by the residents.
Big Data in the Middle East – challenges and opportunities
The Middle East, UAE especially, is continuously pioneering in technology adoption, and businesses are always looking for new ways to improve. Faster decision-making processes, ability to alter the strategy based on information, understanding the customer needs in real-time and fulfilling them with solutions – Big Data seems like can do it all. That's why Middle East countries are making the most of it, attempting to focus on AI-based travel experiences or demographics-based content as a reflection of a new future.
Big Data companies strive to understand customers' problems and why they occur. Using data to solve the problem, analysing the patterns to predict the next events, and finally converting each challenge into opportunity using the agile methodology lies at the basis of their work. Companies that adopt Big Data and make use of it can achieve a competitive advantage.
There are also challenges that Middle East countries must face regarding Big Data:
Limited governance to foster the development of Big Data,
Data standards are not defined for most governments,
Lack of skills to utilize Big Data,
Absence of data sharing promotion,
Lack of awareness about the importance of Big Data availability.
However, to accelerate the progress of their Big Data implementation, the Middle East countries need to start building the necessary basis to ensure storing, sharing and analyzing the vast amounts of data. Forming the right governance is the most important step. Also, establishing Big Data functions as a cross-governmental program proved to be a key success factor for implementation and alignment.
A few use cases of Big Data in the Middle East
Big Data is only useful when meaningful, and the right insights can be extracted from it. Turning data into valuable information is the key to creating new innovative possibilities in business. Here are a few examples of how it is done in the Middle East.
Hydrocarbon sector
The hydrocarbon sector is one of the most prevalent industries for the use of Big Data in the Middle East. Processes of finding and producing hydrocarbons generate a large amount of data. Understanding and interpreting this data requires new technologies that allow for making accurate decisions. Big Data analytics can help address hydrocarbon production, find new resources, provide ways to sustain the environment and identify trends to move to a low-carbon economy.
Telecommunications
Telecoms with the most advanced Big Data analytics programs have maintained their focus on use cases in their core businesses and operations. A leading global telco operator uses customer data to enhance revenue assurance and fraud management. A company from the Middle East combines mobile network data and customer information to analyze network quality of service and develop new insights into customer usage patterns. This insight is used for selective promotional targeting.
Financial institution
Today, data and data analytics allow us to understand customers and improve internal processes, such as operations or compliance, as well as boost scalability. One area in which a financial institution can use Big Data is marketing. Marketers can use it to gain a better understanding of customer preferences and which products and services promote to them. Banks can even use customer data to monitor their behaviour in real time. For instance, a bank could send an offer to a customer based on the activity on an app or credit card data from a purchased item. Or suppose a potential customer visits the bank's website to browse a particular service. In that case, retargeting will allow the bank's loan offers to be displayed on other websites visited by the customer.
New media
Social media has revolutionized communication between people. In the Middle East, social media are instrumental mostly during political campaigns and elections, and the internet is a crucial platform for public discourse and debate. These activities generate large amounts of data that can be mined to address questions about different socio-economic dynamics, class, society, and culture.
Social media, in this particular case, have also become tools through which public opinion and activities can be monitored and controlled by the state. However, one key factor in analyzing this data is the language in which it is produced. Many of the existing tools and technologies for data processing are from western countries.
Therefore, they pose a challenge in analyzing data produced in Middle East languages. Understanding the general phenomena that characterize social media in this region is the key to addressing social science research questions.
Are you interested in data monetization?
Reach out and see what we can do for you!
Healthcare
The healthcare sector aspires to maximize the application of data-driven research. The Israeli government has access to health data stored by the local institutions for improving health services, research, and development. Researchers can now use the country's health data, which is well maintained and routinely updated by health maintenance organizations. The project shares this information to derive insight and support innovation in medicine.
Smart cities
Smart cities are the concept that allows the urban areas to use information and communication technologies (ICT) to increase operational efficiency, gather data about citizens, receive valuable insight and improve both the quality of government services and citizen lives. The such idea became really popular in the Middle East. Smart Dubai, TASMU, New Urban Agenda and UN-Habitat Strategic Plan 20/25 are the main projects that aim to create smart urban cities monitored by digital devices. These initiatives aim to produce and capture Big Data that will be analyzed to improve city life, come up with new models for governance, and create more efficient, sustainable and transparent cities. They can also help make more green energy systems that would improve the citizens' quality of life.
Culture
Museums produce a large amount of data daily, including information from cataloguing, curating, conserving, and digitizing their collections. Data about visitors, tours, marketing, and feedback, both online and offline, provide valuable insight. Curators know which collections gain the most attention, which exhibit is the most popular and which marketing strategy works best to attract visitors. With all this data collected, researchers can understand audience interactions with art and culture.
Benefits of using Big Data in the Middle East
Many The Middle East countries resolved their business challenges thanks to proven Big Data use cases. They were implemented in various sectors, such as education, healthcare, and transportation. Governments should collaborate with research centres to fuel innovation and unlock potential data values to speed up the transformation. As a result, Middle East countries can transform their economies and continuously play a leading role in the Big Data global race. Here are the major reasons to use Big Data across the Middle East in the future.
Understand customer expectations
Thanks to Big Data analytics, companies can know the major answers to questions about their customers. Knowing your customers' needs, recognizing regular and loyal customers, or understanding why they choose selected products or services are the main benefits. With these data, companies can make the required changes that significantly improve experiences. Also, they can easily adjust the current campaigns to the specific needs of customers.
Make data-driven decisions
Solving complex problems is the main problem amongst most Big Data companies in Dubai. Fortunately, it can be resolved by using collected data and turning it into valuable insights. When making an in-depth analysis of customers' behaviour, the whole industry or competition is what makes Big Data useful. Its accuracy allows companies to have a complete vision of how to make a successful strategy. Making data-driven decisions helps run new campaigns, implement new products or services, and think ahead of the competition.
Optimize business operations
Thanks to Big Data technologies, like cloud computing or machine learning, companies can easily identify their businesses' inefficiencies and loopholes. They understand what is working and what is not. Optimizing business operations is easier with insights gathered from data. Companies can improve their strategy, gain new customers, or use it to monitor market changes and improvements.
Increase business effectiveness
Big Data is one of the trends that need to be followed. It brings an increase in agility and effectiveness and boosts sales for various areas. It solves real-time problems, making businesses profitable. Middle East countries can truly increase their effectiveness, even in such sectors as Oil & Gas.
How can TASIL be of use for Big Data in the Middle East?
TASIL is an analytics tool that helps with gathering data on customers' behaviours. Built on Retixa, a real-time marketing engine that allows Big Data analytics, TASIL allows transforming raw data into actionable insights and generating new revenue streams. Using Retixa to monetize data opens up new possibilities. TASIL knows that data is the fundament, context is the key, and that cutting-edge technology is crucial to tying it all together to uplift your customers.