Insights
Towards understanding the customer – the latest tech trends in marketing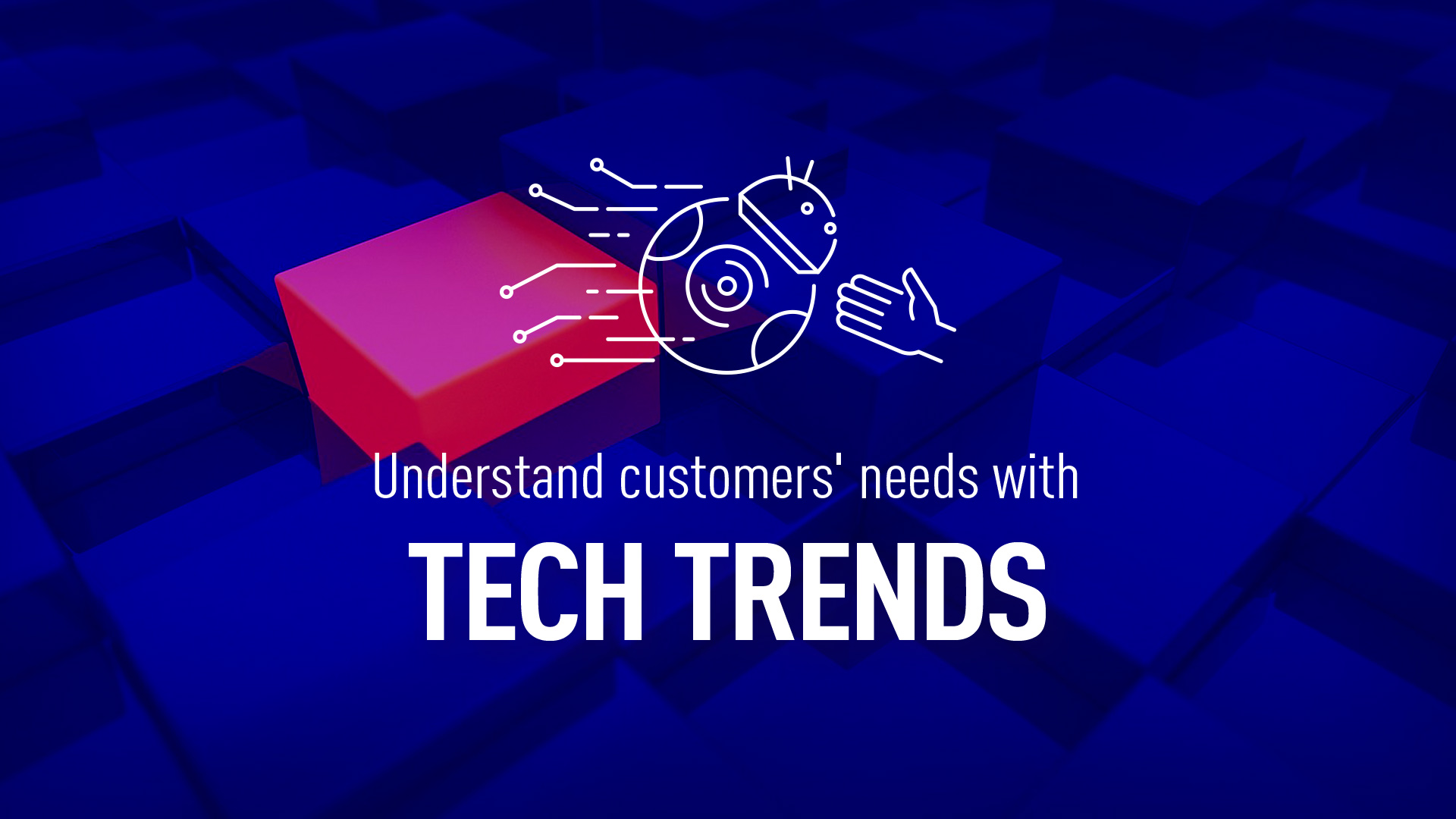 The way of thinking, expectations, and types of interactions that customers have with providers are constantly changing. To stay in peoples' minds and hearts for longer, it is crucial to understand customers and their needs, find ways of efficient communication and precise targeting, focus on marketing automation and put emphasis on interactive content. It's also important to follow the latest tech trends and simply be on time. Changes in customers' preferences force an evolution of the world of marketing.
The tech trends to follow
In the era of modern social media, rapid technology development, automated advertising mechanisms and audience analysis, marketing need to continuously change. In order for precise targeting the group effectively, marketers must be up to date with these changes, especially as consumers become more conscious in general and more sceptical about advertising itself.
The following brief summary of the recent and the most important tech trends will help in setting marketing goals for the near future.
Well, which trends should be taken into consideration primarily, then?
Big data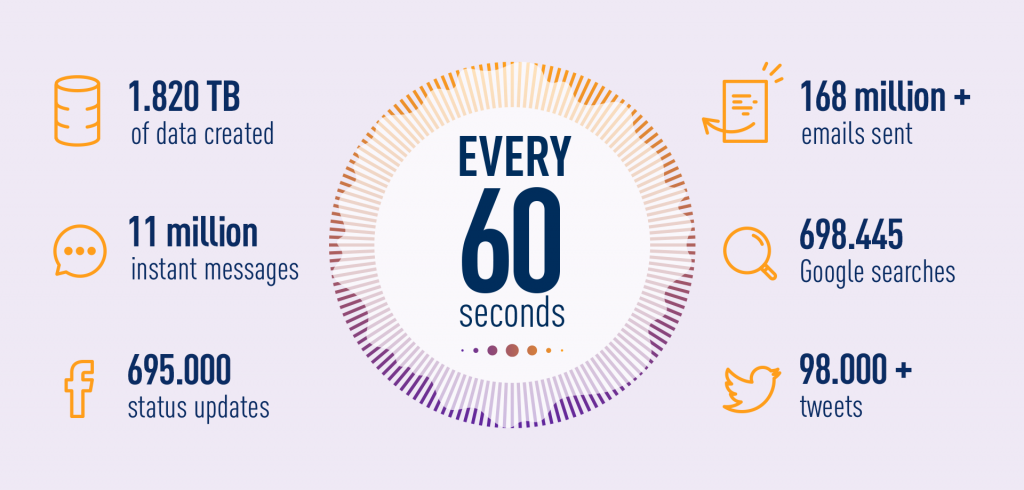 The number of information collected and processed is huge and will be constantly growing. Every 60 seconds, 1.820 TB of data is created, over 98.000 new tweets and 695.000 new status updates appear, 698.445 Google searches are made, over 168 million emails and 11 million instant messages are sent and the Internet gains 217 new mobile web users.
We know more and more about customers needs, their behaviours, and preferences. It opens new opportunities for marketers, but also generates challenges that they have to face, like keeping an eye on the latest tech trends all over the world. Data, in the era of digitization, is like new petroleum that marketers will have to properly extract and process. Integration of data and its interpretation, flowing from many sources, allows personalization of content to each stage of the customers' purchase path.
Considering the continuous increase in the amount of data, the automation of processes in the area of analysing expected customer experience, their purchasing behaviours, and marketing decisions will probably be even more appreciated. The accessibility of Big Data solutions is also growing. For instance, the company can use a platform such as BRAND24.com to check online mentions referring to the company name, its brand, service or product in real-time, which helps to increase customer satisfaction and sales. Operating on Big Data, Sotrender, providing tailored results of your activities in social media, is available for small and medium-sized enterprises as well.
There is no doubt that using Big Data becomes a must for each savvy entrepreneur these days.
Marketing automation
To be able to manage the vast amount of data and be more effective, marketers progressively rely on marketing automation. Repetitive marketing activities, such as e.g. email or social media campaigns, that had been conducted manually, can be performed faster and more efficiently thanks to software platforms and technologies dedicated to marketing automation. The platforms are used by marketers for planning, coordinating, managing and measuring marketing campaigns. They allow to automate and simplify communication with clients in omnichannel, using complex marketing strategies. Marketing Automation turns out to be helpful in the following areas:
lead generation
segmentation
lead nurturing and lead scoring
relationship marketing
cross-sell and upsell
retention
measurement of return on marketing investments.
Real-time marketing
First things first, it is good to know that real-time marketing can be interpreted in two distinct ways. Firstly, as an immediate, adequate marketing response, usually within a digital channel, to cultural events taking place in real life and secondly as automated responses to customer behaviour (for instance visiting a particular website, using an application, searching for a specific product or passing by a point of sale) that result in a personalized and contextually relevant offer. Read more on differentiating two real-time marketing approaches here.
The tech trends related to real-time communication result from the urgency to meet the customers' needs. Customers highly value their precious time – the time devoted to searching for interesting information, solutions to their problems, the most suitable service or product. Facilitated interaction with the brand, immediate and adequate marketers' response to customers' demands, give them the feeling of being significant, heard and understood. Therefore, it's not surprising that 21% of the UK and US consumers say they are more likely to respond to contextually relevant promotions. Unquestionably, real-time marketing raises the quality of customer experience.
Real-time marketing tools for communication with customers, based on the latest technologies, provide opportunities that are being used more and more often. Chats, supported by consultants or AI (bots), solving the most popular users' problems, are some examples of such communication.
Precise targeting
Marketers focus on intensive personalization and creating content that is maximally adjusted to the target group, both in its subject and form. The better profiled, the more effective a marketing campaign is.
Big Data helps prepare messages and offers that largely coincide with the customer's expectations. Having broad knowledge about the customer experience, their preferences and needs enable the brand to become the customer's guide from the very beginning of the purchasing process to its very end. A complete customer profile is also very useful after transaction completion. It helps to improve customer experience every time they are contacting the brand.
Precise targeting of customers' needs, behavioural precise targeting (preferably close to real-time) and response to customers' needs speed up purchasing decisions and builds better brand awareness. Creating content tailored to the preferences of the selected target group becomes one of the tech trends that is a must to follow.
71% of consumers say they are more likely to respond to messages tailored to their personal interests and 44% of respondents said they were willing to share information including name, address or email address to receive more personalized ads. After all, it is hard not to admit the value and necessity of precise targeting in advertising.
Interactive content
Website content needs to be dynamic and the more interactive it is, the better effect it brings. Marketers are aware of the fact that displaying a website content in a visually attractive, more convincing and engaging manner, catches attention and attracts new customers more easily.
In order to increase the effectiveness of purely textual materials by up to 94%, it is enough to vary them with graphic elements. Nevertheless, human cognitive functioning guarantees that interactive content would be the most effective. Although 90% of information reaches the human brain through a sense of sight, the content that interacts in various ways is perceived as more appealing. Users, seeing that their behaviour on the website affects its appearance and changes its content, have a self-efficacy sense and derive greater satisfaction from contact with such websites.
Website owners, following the latest tech trends, may consider introducing such interactive content as quizzes, infographics, videos, different kinds of calculators, data visualisations, e-books or flowcharts. Also, no one would undermine the value of collecting solid feedback in the form of e-mails or comments from users and customers.
Touch screens in mobile devices or spreading use of augmented reality further expand the scope of possibilities that the interactive content has to offer.
It could be considered as a quite big mistake to underestimate the benefits of taking advantage of this marketing trend.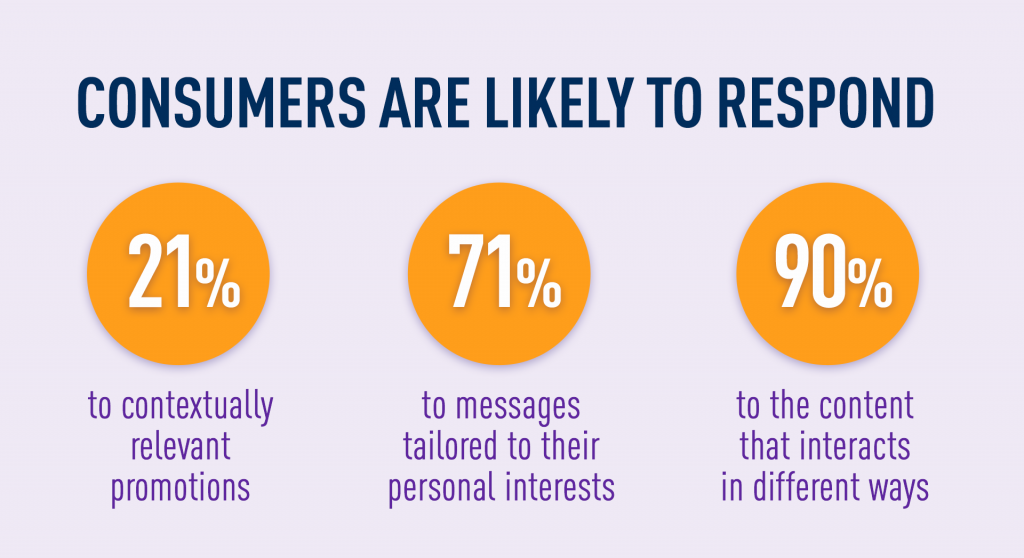 Artificial intelligence
Artificial Intelligence is one of the most important tech developmental directions and the must-follow tech trend. The significant progress in this field is visible for instance in various types of bots. AI allows faster, cheaper and better automation of such processes like customer service, e-mail marketing, and content creation. If AI responds to the needs and problems of customers just as freely and reliably as a human, the contact with AI will have a chance to appear to customers as attractive and significantly facilitate communication.
The most commonly used AI technology in business is voice recognition, as 32% of executives say. Voice customers authentication limits issues related to forgotten passwords.
Are you interested in data monetization?
Reach out and see what we can do for you!
However, some AI uses resemble more of sci-fi. In China, for example, the first artificial TV news presenter in the world has been recently called to live. It is able to work 24 hours a day, not becoming tired and not making mistakes. His image, voice, gestures and facial expression do not differ from those of a human.
TASIL follows tech trends
The platform, based on the processing of Big Data, deriving from the most reliable sources, enables extremely precise targeting of messages and offers, sent in real-time to their recipients. TASIL considers the recipients' location, their demographic profile, preferences, and needs. Activities based on Big Data and real-time marketing are always based on the most up-to-date information about the customer experience.
The perfect combination of Big Data, real-time marketing, and precise targeting enables not only knowing and understanding but also predicting customer needs and approaching them with an adequate offer before they even realize them.
And guess what? Preparing TASIL's User Interface, team TASIL has not forgotten to refer to the latest tech trends, presenting animated and interactive content! Enjoy 🙂