Insights
A few benefits of mobile advertising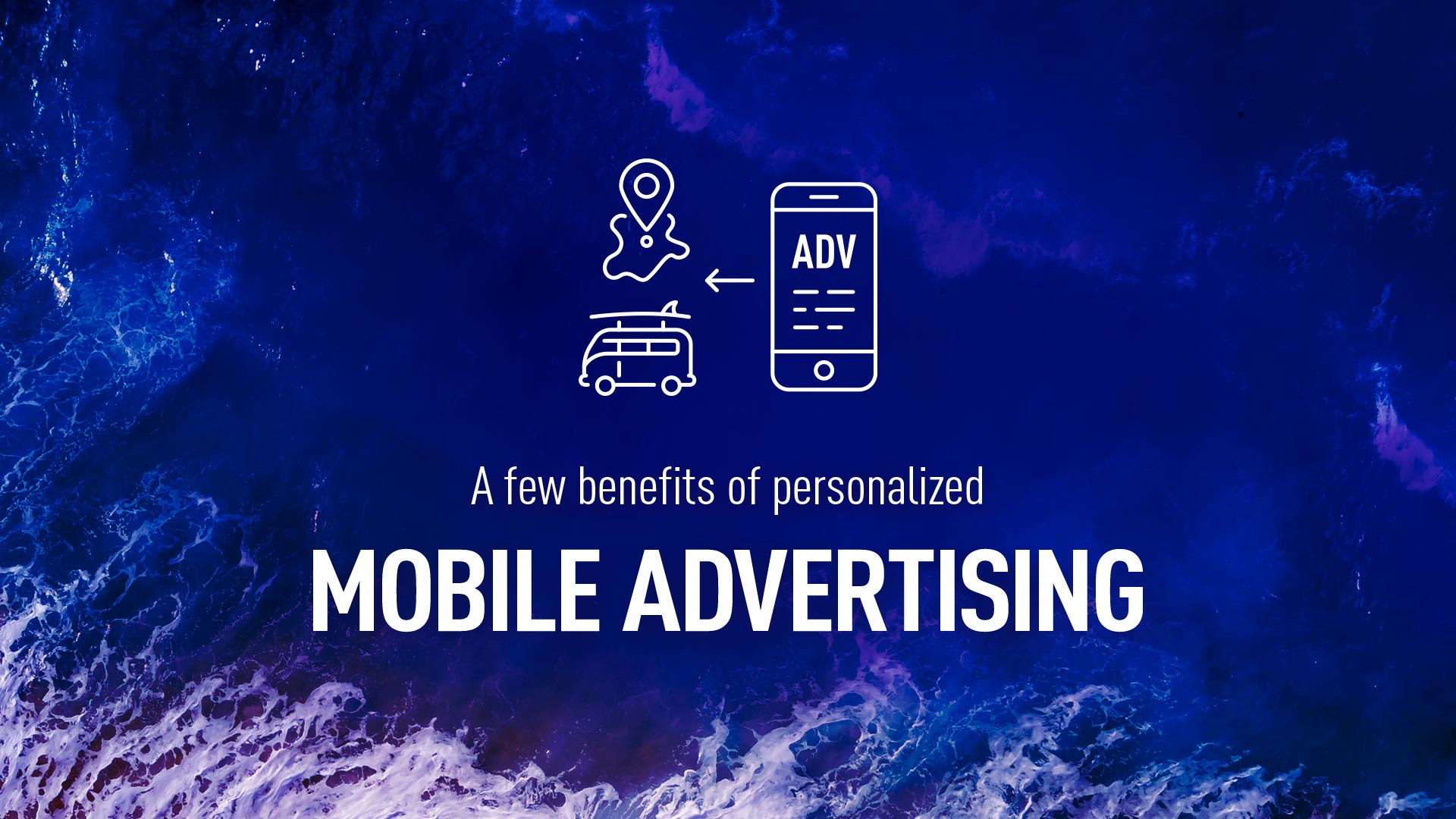 Can you think about a day, from the latest months, when you didn't have a smartphone in your hand? Probably not. And maybe it's not ideal, but for tailored advertisement, it is more profitable than you may think. A few reports showed that during 2018 United States marketers spent $30.9 billion on mobile advertising alone, which was 63% of their total digital ad spend. These numbers are enormous because of the rapid growth of mobile device usage. But there are also other benefits of mobile advertising.
How does mobile advertising work?
Mobile advertising is an answer to people that are hooked on to their phone screens or mobile gadgets. It is the type of advertisement technique that they can see on their smartphones. There are different types of ads, such as text-based ads, banner advertisements, videos or even mobile games. They are also optimized to fit into your phone's screen. 
When marketers use mobile advertising, they usually make use of traditional techniques and strategies to collect data. Constantly updated consumer profiles, data about their demographics, habits, or preferences – all these can be gathered thanks to your mobile device. Mobile marketing has some substantial advantages over other channels.
Marketing in apps revolutionized the way that marketers perform campaigns. The main benefits of mobile advertising include an increase in customer engagement, cost-effectiveness, or personalized messages to the target group.
Different types of mobile advertisements
Marketers can use different types of mobile ads in their campaigns.
Banner ads
Historically speaking, banners were one of the first types of advertisement, not only as standalone signs near the roads but also on websites. With the rapid development of interactive media, we might think they will be "the voices of the past", but they are still alive and well.
People have gotten so used to banners that they may often not realize that it's an actual advert. So, what are the benefits of this type of mobile marketing? They're simple and very cheap. They can have very catchy CTAs and appealing colours, delivering the message immediately after seeing them.
Video ads
Watching videos on mobile phones became a habit for many people. Ads watched on the phone have a higher impact than those watching on TV. They are easy in concept, but to make them attractive, marketers should follow a few tips:
Keep it simple
Be creative
Make them short and stimulating
Remember not to scream too loud about what you want to say
Have a clear call to action
Video ads play while a user interacts with an app. Thanks to its engaging visuals they may cost a little bit more, but they can be genuinely beneficial.
Native app-based advertising
Native ads are similar to banners and mimic the original app format for optimal user experience. This kind of mobile advertising's main benefits are that they're a part of the mobile environment and can't be blocked, so they are not that intrusive. 
They are displayed in various forms because they are a part of the app. Ads are shown to targeted users without any interruptions. Total appearance, buttons, or any design features are similar to other elements of the app. They should include a headline, an engaging description, a brand logo or name and a URL. Facebook Ads can be an example of such ads; they may seem like another post from one of your friends.
Interstitial mobile advertising
Some ads can be a little bit more distracting than others. Interstitial ads are that kind of ad. They appear on the entire screen, usually after playing a game or clicking through Instagram stories. Users can close or swipe them, but sometimes they must wait a couple of seconds.
Because interstitial ads are shown on full screen, they are supposed to be very creative with an engaging call to action. Otherwise, they can be annoying and intrusive. While choosing this type of ad, you should focus on being as creative and exciting as you can be so that it won't make users feel irritated.
SMS marketing
SMS marketing is the perfect way to communicate with your customers. It's one of the simplest ways for targeted advertising to reach your target group with the message you want to deliver. That's why it's really popular!
It's quick, easy and convenient for any business. Companies can send out large bulk SMS messages all at once to a specified group of customers. Then, they can also track who clicked on links or who has unsubscribed from their messages. It's the perfect time to mention our SMS marketing tool that we implemented together with Omantel. You can read about it on its website: https://tasil.omantel.om/. But we'll come back to this at the end of the article.
Bulk SMS is not what TASIL Omantel does – on the contrary, we target the messages as narrow as possible to make the results of the campaigns even better.
Gamified mobile advertising
Gamified mobile advertising is usually a video, especially popular among savvy marketers who want to create the most interactive channels for advertisements. Gamification became a hot topic in recent years because of its combination of game-based mechanics with gaining actual knowledge.
Gaming mobile advertisements work great thanks to their use of gamification's basic. They are engaging for customers at a basic level but can also help with gathering data about the users. A potential consumer is more likely to spend ten or more seconds on an advertisement if it includes a gamification element. That's why short and quick gaming videos that let users test an app are currently a hot topic.
Benefits of mobile advertising
With these different types of mobile adverts, we know which one can be the most suitable for our campaign's needs. But what do all these ads have in common? They are really beneficial! Below you can find a list of a few mobile advertising benefits that all types of mobile advertisements share, and that is worth a closer look.
Easy access
Right now, more than 4,5 billion people own and use smartphones. They spend most of their time using mobile apps or social media platforms. Statistically, people spend more time on their phones than on computers or laptops. Also, up to 80% of web traffic is caused by mobiles. 
These are all the reasons why marketers decided that they put their focus on consumers using phones. The accessibility of phones ensures that your ad campaigns show immediately and are easily accessed by users.
Personalization
Thanks to mobiles, we can always know where the person is. That's why marketers are using location-based marketing. The increased connectivity of smartphones has enabled receiving information and its transmission. We can gather vast amounts of data about the individual preferences of the user, only thanks to their phone.
All this enables advertisers and marketers to be more specific with ads personalization. Targeted advertising can be adjusted precisely to one person, based on their preferences, previous purchase history or location.
Immediate engagement
It was already mentioned, but this is one of the crucial benefits of mobile advertising. These kinds of ads are not only precise but also can reach customers at a very defining moment, ideally fitting in the context. If needed, marketers can create an ad that inspires immediate engagement. They only need to remember to do it in a perfectly fit moment. 
Are you interested in data monetization?
Reach out and see what we can do for you!
For example, for advertising a coffee place, the best way to show an ad is in the morning. Then, it would help if you had a catchy CTA which will encourage the customer to get the coffee at that time.
Creativity and interactivity
People like contests or games. That's why using gamification in mobile marketing makes it more creative and interactive. Mobile ads usually provide a better quality of advertisements, with more pleasing visuals or graphics. By combining targeted advertising with compelling formats, they focus on providing customers with more and more engaging content.
With that in mind, marketers can make their target group spend a little more time with the brand, boosting the overall engagement time. This creative and interactive side of mobile ads provides a bridge between the advertiser's solutions and customers' needs.
Cost-effectiveness
Finally, the most important mobile advertising benefit from the marketer's side – costs! Why are mobile ads cheaper? It happens mostly because of their targeting. You only reach customers that want and need to see a specific ad. You don't need to put much money into unnecessary marketing that should be attractive to everybody. Focus only on targeted advertising and then make it the best you can. And when it's not working (and you can measure your results quite simply) you can save lots of money by merely stopping the campaign!
Also, the nature of the medium, such as smartphones, is cheap, unlike most marketing platforms with countless ad prints or expensive ad spaces and time.
TASIL as a mobile advertisement tool
Together with Omantel, we used TASIL as a solution to process data in the mobile network operator premises. The main objective of TASIL is to help you reach the right person with an adequate message in an appropriate time and place and thereby to capture a potential customer's attention. Thanks to an innovative IT solution based on the analysis of data gathered by a mobile network operator, we can set an accurate TASIL campaign for any business.