Insights
Data monetization helps reduce customer churn in the telecom industry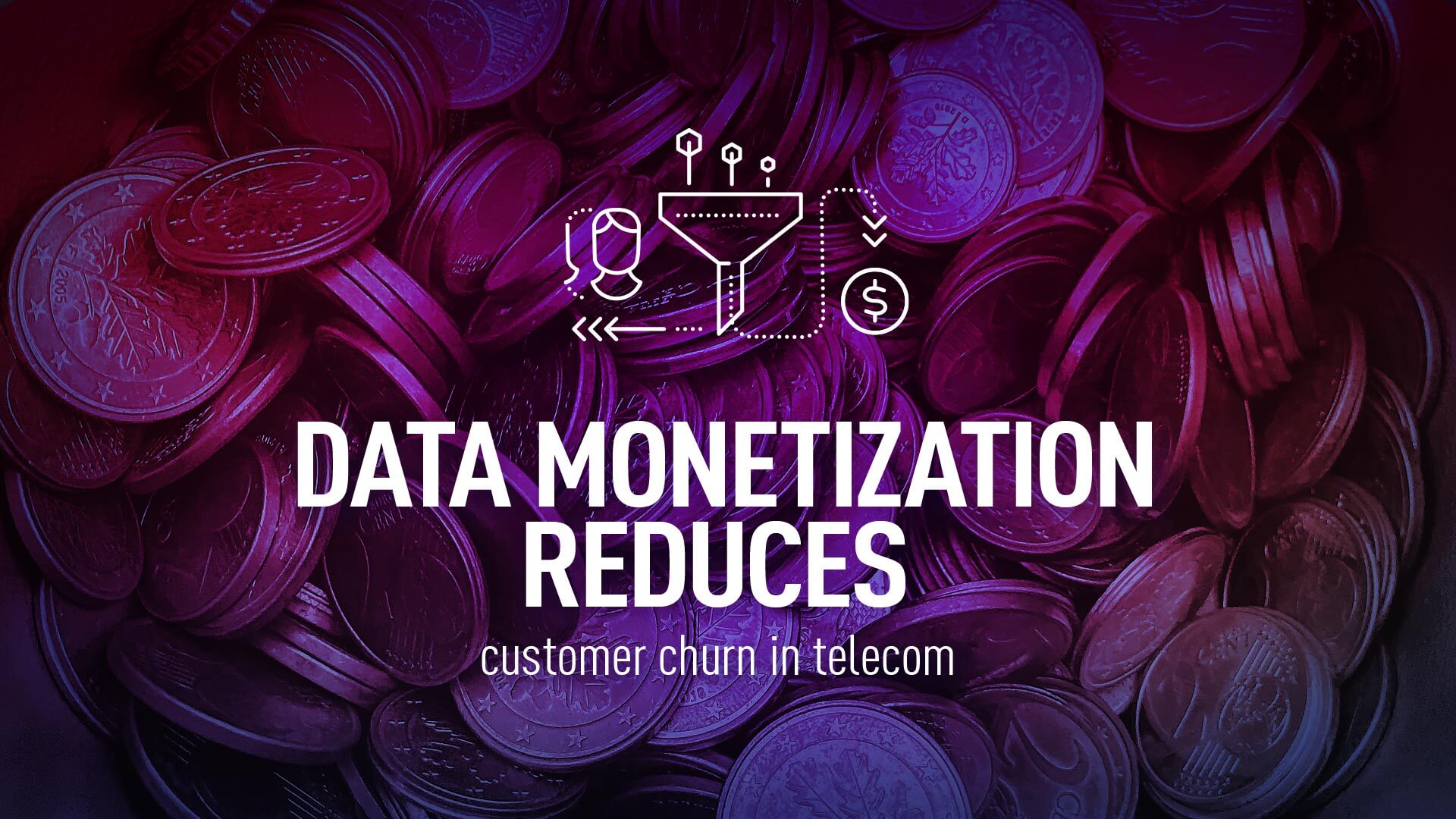 With mobile operators fiercely trying to differentiate themselves by offering more competitive rates and services, customer engagement and brand loyalty are on a loose end. Even before the COVID-19 pandemic, customer churn rates were a clear and present challenge. Given the challenging landscape today, it has never been more urgent for telecom companies to understand the driving factors of their customer churn. Our article shows the main causes of customer churn in telecom and the ideas on how to use data monetization to reduce it.
Main causes of customer churn in the telecom industry
One of our blog posts mentioned the ideas for reducing customer churn. This time, however, we are going to discuss this issue concerning the telecommunications sector. Using data monetization to reduce customer churn in the telecom industry offers various benefits, but let's start with the main reasons why exactly it happens.
Six key factors lead customers to leave one telecommunications provider. To avoid customer churn in the telecom industry, companies should address the below factors.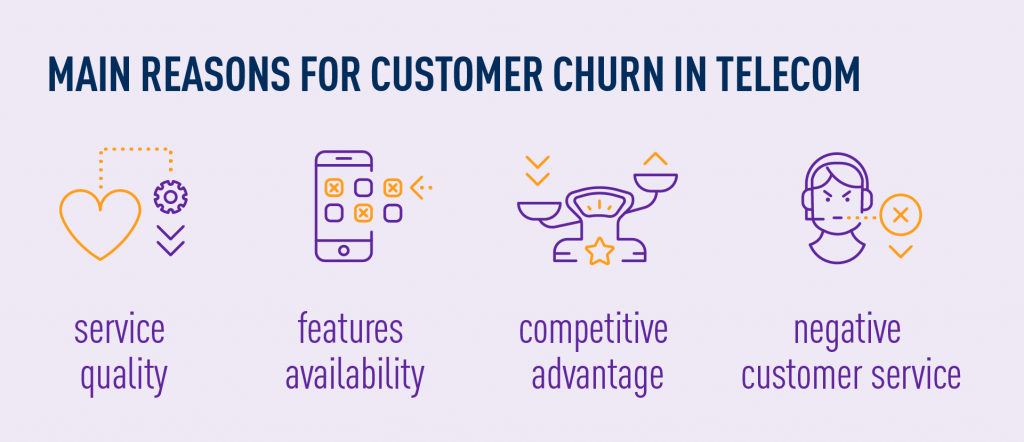 Service quality
If a network quality issue causes churn, telco managers could identify the exact cause of the issue effectively. For example, the main reasons for bad service could be a damaged cell phone, poor reception, or communication tower issues. To accurately track this driver, telcos should keep an eye on and manage their dropped-call rate as well as their call completion rate.
Features and content availability
It occurs in marketing or sales when a customer signs up for a plan that isn't best suited to their needs. Unfortunately, such a decision most often ends up in terminating the contract. Therefore, it's crucial to measure your customer churn rate for specific services or bundles to identify an acquisition problem.
Lower cost substitutes from competitors
Telcos are always in a state of instability where even the slightest change, such as pricing changes or new product launches, can cause customers to try another service provider. In addition, from the awarding of new telco licenses introducing new competitors to higher taxes borne by the consumer, these factors also contribute to customer churn in the telecom sector.
Negative customer service experiences
Customer service has always affected customer satisfaction, regardless of industry. This is even more visible in the telecom industry, where communication services are a necessity. From issues reaching the call centres to the actual resolution of the customer's problems, keeping your customer service issues to a minimum is the key.

Using data monetization to reduce churn
Telecom providers have a unique opportunity to access the multitude of customer data unavailable to other industries. This is because of the services that allow them to see customers' activities through web services and centralized systems. Data from cell towers and deployed infrastructure allow companies to gain visibility to the last mile of the supply chain. Also, they can access data about their customers on end-user service performance.
Data has improved significantly over the years that have led to enriched customer databases. Most telcos concur on an internal business being the most visible and valuable avenue to monetize their data analytics investments. Numerous use cases enable revenue uplift through customer life cycle management and cost optimization through greater efficiency in network planning, sales, or customer care. Each of the use cases, presented below, proves how data can be used to reduce customer churn in the telecom sector.

Advanced analytics
Telcos that have the most advanced data analytics programs can focus on their core businesses and operations. For example, a challenger in Eastern Europe used an advanced analytics anti-churn model to employ a retention strategy. As a result, it has achieved a 58% churn reduction in paid TV services and 17% in mobile services.
Improving business and operations
Another leading global telco provider is using customer data to improve revenue assurance and fraud management. Telco operator from the Middle East combines mobile network probe data and customer data to analyze the network's quality of service and develop new insight for personalized promotional targeting.
Customer experience processes
Data monetization in telcos is usually related to the commercial, network and customer experience processes. Many support processes such as HR, procurement and logistics remain largely unexplored. A leading European telecom operator uses analytics to manage procurement activities in massive purchasing operations.
It allows for identifying process gaps and aberrations from standard procedures. A leading telecom operator in the United States uses text analytics and a machine learning approach to analyze customer complaints data. As a result, it achieves operational efficiency. An Asian operator moved from a reactive to a proactive approach as a response to rising customer complaints.
Providing customized products and solutions
External monetization business models range from providing customized data as a service to developing custom products and solutions for third parties. Footfall analytics that allows tracking customers' locations and using them for marketing purposes is one of the most popular monetization examples for telcos. In many cases, this allowed operators to diversify in the advertising value chain, ensuring their competitive advantage and reducing customer churn in the telecom sector.
Partnership in B2B and B2C segments
Telecom players who have taken proactive steps towards external monetization of data have primarily done so through partnership models across various ecosystems in B2B and B2C segments. In some cases, telecom operators have also acquired start-ups for vertical integration across the value chain. For example, advertisers can target customers with more personalized ads based on a person's physical location and also check whether the person visited a retail store after seeing this particular mobile ad.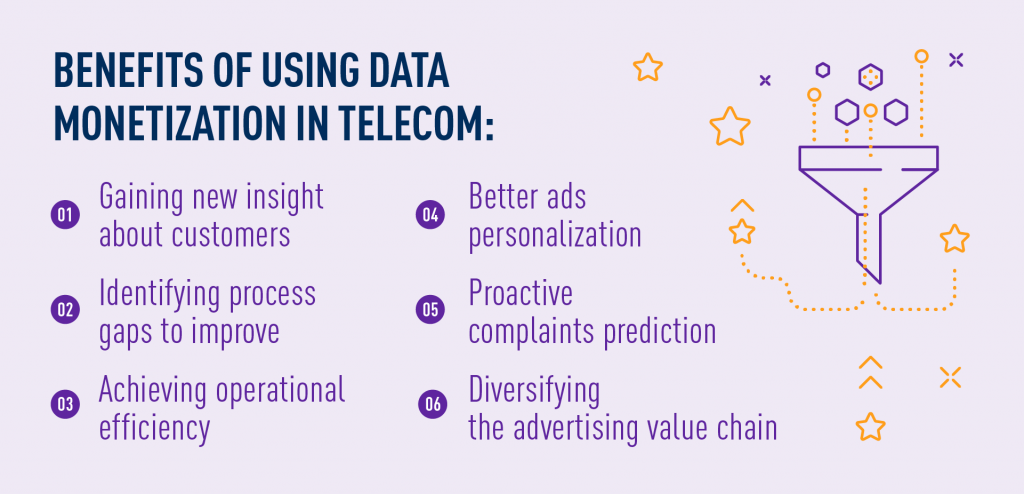 TASIL helps reduce customer churn in the telecom
Reducing churn is more important than ever, especially while the telecom industry is growing its competitive advantage. However, many operators have not yet taken the important steps to build a strong analytical foundation for success.
The companies that move quickly towards these changes could be best positioned for success in the future. TASIL is a tool that helps in data monetization and allows better preparation for digital transformation. Reducing customer churn in the telecom industry can be no problem with TASIL's in-depth analytics and deeper understanding of peoples' needs.